Strikeforce's big time debut on Showtime will be this Saturday night featuring a headliner bout of WW Champ Jake Shields v. MW Champ Robbie Lawler. The main card fights look very solid, while the undercard has three big names in Cavalcante, Kyle and Woodley. Here is the line-up:
Robbie Lawler vs. Jake Shields
- This match will feature two very contrasting styles. 170 pound BJJ blackbelt Jake Shields is an accomplished grappler that will look to get the fight to the ground as soon as possible. Lawler will try KO Shields on his feet while defending the takedown.
Elite XC WW champ Jake Shields (22-4) has been on a serious roll with an 11 fight win streak. Jake has victories over Yushin Okami, Paul Daley, Nick Thompson, Carlos Condit and Dave Menne in his career.
(Jake Shields pictured)
Elite XC's MW Champ Robbie Lawler (16-4) will be looking for a KO while standing and when Shields attempts taking him down. Lawler has serious knockout power, as 13 of his victories have come via KO/TKO. Lawler has victories over Scott Smith, Joey Villasenor, Frank Trigg and Ninja Rua.
(Robbie Lawler pictured)
Andrei Arlovski vs. Brett Rogers-
Former UFC HW champ Arlovski will have his hands full against rising undefeated up and comer Rogers. Rogers is a massive 6'5" 265 pounds and have at least 30 pounds on Arlovski. Arlovski will need to utilize his quickness and precision boxing against Rogers brawling.
Andrei Arlovski (15-6) was on a five fight win streak, winning 3 in the UFC, and two over IFL stars Ben Rothwell and Roy Nelson before he met the best in the world. Arlovski defeated Tim Sylvia for the UFC HW title and defended twice over Paul Buentello and Justin Eilers. Arlovski also has wins over Ian Freeman, Vladimir Matyushenko and Marcio Cruz.
(Andrei Arlovski pictured)
Brett Rogers (9-0) had his biggest test on an April Strikeforce card against Ron Humphrey (5-0 at the time), TKO'ing him with knees in the second round. All of Rogers other fights were ended in the first round, including KO's over Bully Beatdown's Jon Murphy and Prive vet James Thompson. Rogers will have to use his heavy hands to KO Arlovski.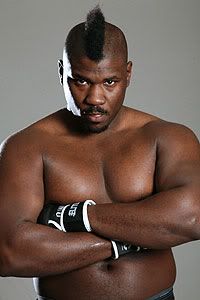 (Brett Rogers pictured)
Nick Diaz vs. Scott Smith
Phil Baroni vs. Joe Riggs
Kevin Randleman vs. Mike Whitehead
PRELIMINARY CARD
Rafael "Feijao" Cavalcante vs. Mike Kyle- swing bout
Josh Bumgarner vs. Jesse Finney
Tyron Woodley vs. Sal Woods- Woodley All-American wrestler
Lucas Lopes vs. Scott Ventimiglia
Pat Benson vs. Dave Cochran
Booker DeRousse vs. James Wade