This Saturday, April 18th, Anderson Silva (23-4, 8-0 UFC) will defend his MW belt against Thales Leites (14-1, 5-1 UFC) at UFC 97 which takes place in Montreal, Canada. Silva will bring the thunder, as he was disappointed in his last performance, a TKO/injury win over Patrick Cote.
I was in attendence at UFC 90, and I can tell you Silva looked fast and dictated the pace during the fight with Cote. Silva didn't throw many strikes, but all landed with power and force. Cote injured his knee at the start of the third round. Silva will be looking to throw kicks, punches and knees to Thales Leites.
Silva has brutalized the UFC's 185 pound division, and even destroyed 205 pound heavy hitter James Irvin for good measure. Silva has victories over Rich Franklin, Chris Leben, Nate Marquardt and Dan Henderson.
(Silva v. Cote at UFC 90)
Leites will have to utilize his BJJ if he wants to have a chance at victory. Leites hasn't won over the same level of competition with his big wins over Jose Landi-Jons, Drew McFedries, Gustavo Machado and a razor thin and controversial win over Nate Marquardt.
(Thales Leites pictured)
The co-main event features Chuck Liddell (21-6, 16-5 UFC) v. Mauricio "Shogun" Rua (17-3, 1-1 UFC. Liddell has his back against the wall and desperately needs a victory as he is 1-3 in his last four fights. Rua meanwhile is also in need of a win and regaining his pre-surgery form. Rua has been devasted by knee surgeries since problems arose before his fight with Forrest Griffin.
(Chuck Liddell pictured)
Liddell is destined for the UFC Hall of Fame as soon as he hangs up his gloves. While he still has his trademark overhand right, at 39 years of age his time is running out. Liddell has wins over Randy Couture, Tito Ortiz, Vitor Belfort, Guy Mezger, Kevin Randleman and recently over Wanderlei Silva. Rua was a Pride All-Star before coming to the UFC holding victories over Rampage Jackson, Alistair Overeem, Akihiro Gono and recently over Mark Coleman in the UFC.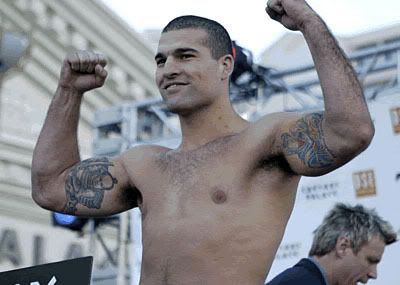 (Shougun Rua pictured)
MAIN CARD
Anderson Silva vs. Thales Leites- MW Championship
Chuck Liddell vs. Mauricio "Shogun" Rua
Krzysztof Soszynski vs. Brian Stann
Cheick Kongo vs. Antoni Hardonk
Luis Cane vs. Steve Cantwell
UNDER CARD
Vinicius Magalhaes vs. Eliot Marshall
Xavier Foupa-Pokam vs. Denis Kang
Jason MacDonald vs. Nate Quarry
Ed Herman vs. David Loiseau
David Bielkheden vs. Mark Bocek
Ryo Chonan vs. T.J. Grant
Sam Stout vs. Matt Wiman
(Anderson Silva pictured)