UFC Fight Night 18 will air next Wednesday, April 1st. The card features former WEC welterweight champ Carlos Condit v. Martin Kampmann. After the show will be the premier of The Ultimate Fighter Season 9. With 8 undercard fights, expect some quick finishes to make the two hour timeslot.
Carlos Condit vs. Martin Kampmann-
I expect these two to test it on the feet before Condit attempts to get the fight to the ground. Carlos Condit (23-4, 0-0 UFC) is a superb grappler with 13 submissions 10 T/KO's on his resume. Condit won the WEC WW title against John Alessio and defended against Brock Larson, Carlo Prater and Hiromitsu Miura. Condit has fought in Pancrase and Rumble on the Rock with wins against Frank Trigg, Koji Oishi, Ross Ebanez and Renato Verissimo.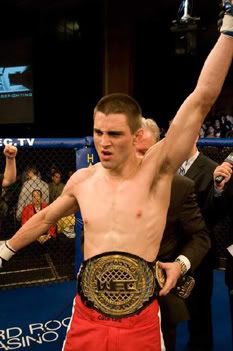 (WEC Champ Carlos Condit pictured)
Martin Kampmann (14-2, 5-1 UFC) comes from a kickboxing background, but he has an excellent submission game. He is most popular for the come from behind arm triangle victory against Drew McFedries at UFC 68. Kampmann's UFC victories have come against Jorge Rivera, Crafton Wallace, Thales Lietes and Alexandre Barros.
(Martin Kampmann kicks Thales Leites)
Ryan Bader vs. Carmelo Marrero-
This is a grappler v. grappler match-up that favors TUF 9 champ Ryan Bader. Bader won TUF 9 with a nasty KO of Vinny Magalhaes. Bader (8-0, 1-0 UFC) may stand and trade with Marrero, denying his takedown attempts. To get to the finals of TUF, Bader subbed Kyle Kingsbury, KO'd Tom Lawlor and won a unanimous decision over Eliot Marshall.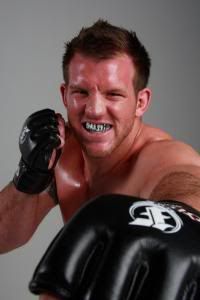 (Ryan Bader pictured)
Carmelo Marrero (10-2, 1-2 UFC) was also wrestler in college, but competing in the junior college circuit doesn't compare to Bader's All-American status at ASU. Marrero is most known for his split decision defeat of Cheick Kongo at UFC 64. After that win, Marrero lost to Gabriel Gonzaga and Wilson Gouveia and was cut from the UFC. Marrero has stormed back, winning 4 fights straight with his last over Steve Steinbeis in the WEC.
(Carmelo Marrero pictured)
Rafael dos Anjos vs. Tyson Griffin-
Tyson Griffin (12-2, 5-2 UFC) is a top level wrestler with some big wins in and out of the UFC. Inside the UFC, Griffin was within grasp of a title shot, but lost to Sean Sherk last October. Before the UFC, he TKO'd Urijah Faber and Duane Ludwig. Inside the UFC, Griffin has decision wins over Clay Guida, Marcus Aurelio, Gleison Tibau and Thiago Tavares while submitting David Lee.
(Tyson Griffin pictured)
Dos Anjos (11-3, 0-1 UFC) was dominating Jeremy Stephens with excllent grappling for two rounds of his UFC debut. Unfortunately, in the third round Stephens unleased an uppercut that put out dos Anjos out. Outside the UFC, dos Anjos has wins in Brazil and Japan, with his biggest win over Takafumi Otsuka
Junie Browning vs. Cole Miller-
Surprising Cole Miller is the one running his mouth before this fight saying he will give Junie a beatdown in this battle of TUF veterans. Cole Miller (14-3, 3-1 UFC) is a lanky 155 pound fighter, who has an excellent triangle. Miller has a last second submission of the night victory over Jorge Gurgel in his last fight. Prior to that, Miller lost to Jeremy Stephens, beat Leonard Garcia via decision and Andy Wang.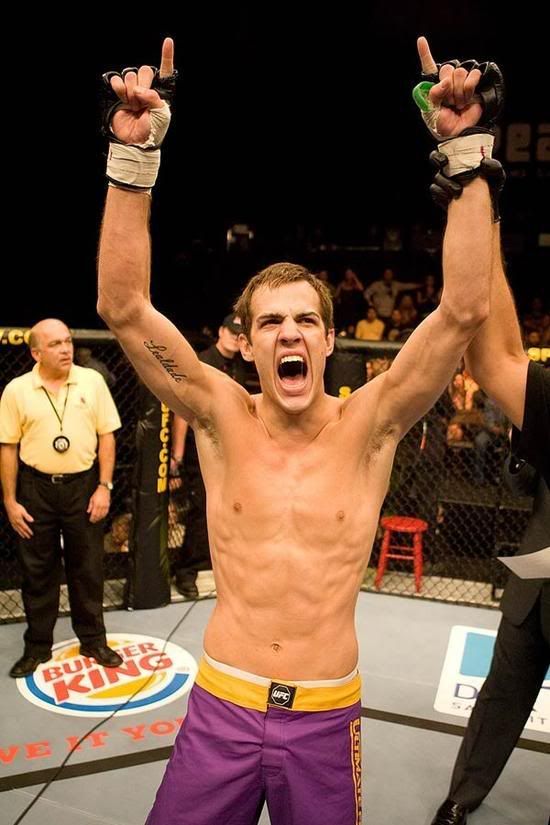 (Cole Miller pictured)
Junie Browning (3-0, 1-0 UFC) looked impressive in the TUF 8 finale, beating up Frank Mir favorite Dave Kaplan. The first round Junie looked to have good stand-up and in the second was able to get an arm-bar. My guess is that Junie will look to keep the fight standing, getting inside to take away Miller's reach.
(Junie Browning's Hand Grenade Tattoo)
UNDERCARD
Jeremy Stephens vs. Gleison Tibau
Ricardo Almeida vs. Matt Horwich
Brock Larson vs. Jesse Sanders
Nick Catone vs. Tim Credeur
Nissen Osterneck vs. Jorge Rivera
Rob Kimmons vs. Joe Vedepo
Tim McKenzie vs. Aaron Simpson
Ryan Jensen vs. Steve Steinbeiss (bout canceled after Jensen admitted Adderall usage)