TUF 9 will premier directly after the conclusion of Ultimate Fight Night 18. Spike TV has announced the first 32 participants in the 9th season of The Ultimate Fighter. The UK and US teams will each face 1st round elimination fights before making it into the house. Coaching Team USA will be Dan Henderson, with assistants Krzysztof Soszynski Vinny Magalhaes. Coaching Team UK will be Michael Bisping with Cyrille Diabate as a stand-up coach.
Team USA Welterweights:
Mark Miller (10-4)- Mark was a former member of the IFL's Chicago Red Bears. His career highlights have been a devastating KO of UFC fighter Josh Neer at IFL Chicago and a decision victory against UFC fighter Brad Blackburn. He is mainly a stand-up fighter with a solid Muay Thai game.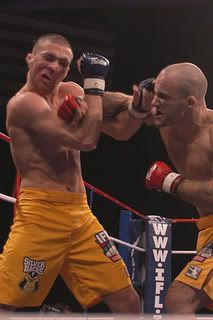 (Mark Miller KO's Josh Neer)
Kevin Knabjian (10-3) is a former Eastern Illinois wrestler who brings a four fight win streak into the tournament. He has wins over decent competition in TUF alum Josh Rafferty (9-6), Jacob Kuester (8-3), Mario Stapel (14-11) and Nino Marroquin (5-1). He has 6 KO's and 4 submissions on his record.
Jason Pierce fights out of Miletich Fighting Systems in Iowa. He has a (9-0) or (6-0) record depending on what database you look at. He has fought in the Extreme Challenge promotion with his biggest win over Luke Gwaltney (11-11).
Other US WW's: Ryan Biglar, Christian Fulgium, DaMarques Johnson, Kiel Reid and Ray Elbe (profiled in video below)
Team USA Lightweights:
Jason Dent (19-9) fought twice in the UFC, losing decisions to Gleison Tibau and Roger Huerta. The submission specialist has 14 submission victories on his resume with wins over Hawaiin veteran Kolo Koka (12-11), Harris Sarmiento (25-19) and team USA member Josh Souder (7-2).
(Jason Dent pictured)
Santino DeFranco (13-4) fought once in the IFL losing to Rafeal Dias. With 9 submissions on his resume, his big wins are against Melvin Guillard (21-7), Kevin English (11-7) and Jamal Perkins (9-3).
Richie Whitson (4-0) is an Alaskan fighter now fighting out of Team Quest with coach Dan Henderson. The striker has KO wins over Ray Cooper (14-9) and Schon Ellis (6-2).
Other US LW's Paul Bird, Cameron Dollar, Tom Hayden, Waylon Lowe and Josh Souder.
Team UK Welterweights:

Che Mills has a record of (7-2) or (6-1) depending on what database you look at. He has heavy hands and power in his punches. He has fought primarily in the Cage Rage promotion with big wins over Ross Mason (14-9), Marius Zaromskis (8-2) and Oriol Gaset (6-3).
James Wilks (5-2) trains out of Eric Paulson's gym in California. He has wins over Ray Lizama (7-5) and Roman Mitichyan (5-2).
(James Wilks pictured)
Nicholas Osipczak (3-0) trains out of Pancrase UK. None of his fights have gone out of the first round. His biggest win was over Brendan Flanagan (3-2).
Other UK WW's- Dean Amarasinghe, James Bateman, David Faulkner, Tommy Maguire and Alex Reid
Team UK Lightweights:

Andre Winner (9-2)- Winner was (8-1) before his last two fights where he drew against Abdul Mohamed (16-6) and lost a majority decision to Bendy Casimir (17-5). He has notable victories over Mario Stapel (14-11), teammate Jeff Lawson (13-2) and Daniel Thomas (9-6).
Jeff Lawson (13-2) is probably the frontrunner in the LW division with 11 submission victories on his resume. After a loss to teammate Andre Winner in 06', he has pulled off 10 straight wins. His big wins have come against Greg Loughran (18-11) and Joakim Engberg (4-3). He has crushed alot of cans in his young career. The judo blackbelt was a member of the British national judo team.
(Jeff Lawson pictured)
Ross Pearson has an (8-4) or (9-3) record depending on the database you look at. He is the Strike & Submit British LW Champ and Ultimate Force LW Champ. In his last fight he beat Ian Jones (6-5) via submission.
Martin Stapleton (5-1) is primarily a Muay Thai fighter with solid kicks. He hasn't beaten a fighter with an above 500 record, with his biggest win over Martin Begley (5-9)
Other UK LW's- James Bryan, Dan James, Gary Kelly and A.J. Wenn