WEC 39 produced some exciting moments and was a decent show. With Frank Mir out training, Jens Pulver was on the mic doing the commentary. Mike Thomas Brown looked strong and dominant as he defended his 145 pound belt for the first time.
Mike Thomas Brown def Leonard Garcia via sub (head and arm choke) R1, 1:57- Mike Brown again came out looking like the stronger fighter. Brown connected with an overhand right that fazed Garcia. From there, it was all Brown as Garcia tried to recover. After cutting Garcia with a couple elbows, Brown locked in the fight ending choke in under two minutes. In the post fight interview, Brown said that he would love to fight Urijah Faber again.
*Brown earns Submission of the Night.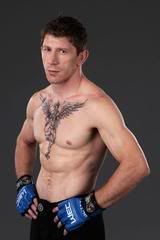 (Mike Thomas Brown pictured)
Ricardo Lamas def Bart Palaszewski via unanimous dec- Late replacement Ricardo Lamas came up big in his WEC debut defeating long time vet Bart Palaszewski. Lamas consistently scored takedowns in the fight and dished out some punishment. Bart almost got close to a triangle choke, but just wasn't there. Lamas' best offense came in the first round when he nearly got Bart's back and when standing Lamas kicked him from behind in the face.
Jose Aldo def Chris Mickle via TKO (strikes) R1, 1:39- Aldo was on his game and Mickle kept his hands low. Those two things didn't mix as Aldo landed kicks and punches before a flying knee. Aldo didn't stop until the ref intervened.
Rob McCullough def Marcus Hicks via majority dec- This fight was a snoozer in the first round, and the fans let their disdain be known. The second round had the most action, as Hicks stunnd McCullough and almost got his famous guillotine choke locked. After Rob got out of the choke, he went to work on Hicks with kicks and punches doing some damage. In the third the fight slowed down again with Rob being more active.
Damacio Page def Marcos Galvao via KO (punches) R1, 0:18- Page came out looking absolutely mean in his stare down. Galvao looked a little scared and young, and it showed once the bell rang. Page threw 9 right hand punches, crumpling Galvao before the ref intervened.
*Won KO of the Night.
Danny Castillo def Phil Cardella via split dec
Kenji Osawa def Rafael Rebello via split dec
Alex Karalexis def Greg McIntyre via TKO (punches) R1, 4:19
John Franchi def Mike Budnik via split dec
Mike Pierce def Justin Haskins via TKO (punches) R3, 3:39
Johny Hendricks def Alex Serdyukov via unanimous dec
*Won Fight of the Night.