Bellator Fighting Championships is slated to debut on ESPN Deportes on April 4, 2009. The format of the show will consist of 12 episodes with a run time of 2 hours shown on tape delay. The shows will feature 8 man tournaments in the 145, 155, 170 and 185 pound divisions played out over 3 months. There will also be non-tournament bouts featured.
Here are five quality fighters that are rumored tourney participants:
Wilson Reis (6-0) is an intriguing prospect in the featherweight, 145 pound, division. Wilson is a BJJ blackbelt who grew up in Brazil and moved to the states a few years ago. The submission specialist has 3 submission and 3 decision victories on his resume with a 4-0 mark in Pro Elite's Elite XC and Sho XC organizations. His last two victories were over Abel Cullum (13-2) and Brian Caraway (10-3).
*Wilson is slated to face Henry Martinez on April 10th.
(Wilson Reis pictured)
Eddie Alvarez (15-2) made a name for himself last year by having an excellent run in the Dream Lightweight Grand Prix. His entertaining street brawling mixed with wrestling style thrilled the fight fans of Japan as he beat Andre Amade, Joachim Hansen and Kawajiri in the tournament. Eddie is a former BoDog 170 pound champ, knocking out veteran fighter Derrick Noble (23-11) in 1:01 of the first round for the title, he defended the title over UFC vet Aaron Riley. In his last fight, Alvarez was baited to the ground by submission wizard Shinya Aoki and submitted via heel hook in the first round.
*Eddie is slated to face Greg Loughran (18-11) on April 3rd.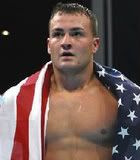 (Eddie Alvarez pictured)
Jorge Masvidal (16-3) is a 155 pound American Top Team member fighting out of Miami, Florida. He has lighting quick hands and feet which have produced some outstanding knockouts. Jorge has fought in the Sengoku/World Victory Road, Strikeforce and Bodog promotions. His big victories have come over UFC vets Yves Edwards, Joe Lauzon and IFL champ Ryan Schultz.
*Jorge is slated to face Nick Agallar (21-5) on April 3rd.
(Jorge Masvidal pictured)
Hector Lombard (18-2) is a famous 185 pound Cuban fighter with an excellent Judo background. Hector brings a 10 fight win streak into Bellator. He won the Australian based Cage Fighting Championships MW belt in November of 2007 and has defended three straight times. In his last fight, Hector beat Brian Ebersole (37-15) in the fourth round via a submission due to punches.
*Hector is slated to face Virgil Lozano (6-1) April 17th.
(Hector Lombard pictured)
Dave Menne (42-15) was the first Middleweight Champion of the UFC when he defeated Gil Castillo at UFC 33. Menne has been competing since 96' and has many victories not listed among his official 42 victories. His other big career moments were winning tournaments in Hook and Shoot, Extreme Challenge, Gladiators and Shidokan. Menne has big victories were over Carlos Newton, Jose Landi-Jons, Chris Lytle, Roberto Traven and Dennis Hallman. He'll be competing in the 170 pound tournament.
*Menne is slated to face Norman Paraisy (5-0) on April 17th.
(Dave Menne pictured)