UFC 87 will be held this Saturday at the Target Center in Minneapolis, Minnesota. All fighters made weight, with Brock Lesnar weighing the heavyweight limit at 265.
WW Champ Georges St. Pierre vs. Jon Fitch
- GSP at (16-2) is one of the best athlete's in the game and has some of the best overall skills in MMA. In his last three fights he has destroyed Matt Serra, beat up Matt Hughes, and out wrestled one of the best wrestlers in Josh Koscheck.
Jon Fitch at (18-2) has rattled off 8 straight victories of his own inside the octagon. However, a couple have been split decisions, and were very close. Fitch has a complete all-around game and will have to use it in this fight. I see the fight taking place on the feet, with GSP unleasing a fury.
Brock Lesnar vs. Heath Herring
- In Lesnar's (1-1) first fight he worked over Min So Kim in K1. In his second effort he beat up Frank Mir, until Mir sensed Lesnar stand up while in guard, grabbed his leg and pulled off a submission. Herring (28-13) has gone 2-2 in the UFC with all four fights going to decision. His last fight was an ugly decision victory over Cheick Kongo.
Lesnar has proven he can get takedowns in MMA. He hasn't proven that he can avoid submissions. I think Lesnar will overwelm Herring and get a TKO early. The fight won't go past the second round.
Kenny Florian vs. Roger Huerta
- Florian at (9-3) has looked dominant in his four straight wins inside the UFC. He has beaten Joe Lauzon, Din Thomas, Alvin Robinson and Dokonjonosuke Mishima winning each by early stoppage. Huerta at (20-1) has not beaten the same level of competition as Florian. Huerta is an extremely exciting fighter and most likely will keep it standing. This fight could end up being a muay thai/kickboxing battle on the feet.
Rob Emerson vs. Manny Gamburyan
- Manny Gamburyan (8-2) looks healthy and has won two straight since his injury loss against Nate Diaz in the TUF 5 finale. Emerson is coming off a decision win over Keita Nakamura in UFC 81.
Jason MacDonald vs. Demian Maia
- Jason MacDonald is coming off a big win over Joe Doerkson after his loss to Yushin Okami. Maia is a perfect (7-0) a submission wizard, with BJJ blackbelt. MacDonald holds some impressive submission victories as well. The winner will likely be put up near a top contender spot.
-Undercard-
Luke Cummo vs. Tamdan McCrory
Dan Evensen vs. Cheick Kongo
Jon Jones vs. Andre Gusmao
Steve Bruno vs. Chris Wilson
Ben Saunders vs. Ryan Thomas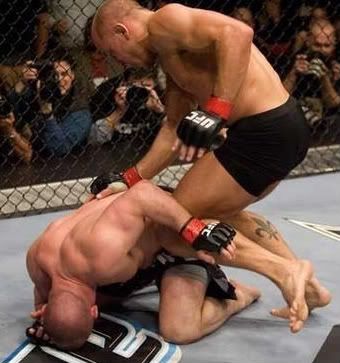 *Picture of GSP kneeing a downed Matt Serra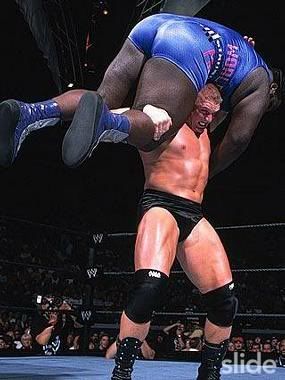 *Picture of Lesnar from the WWE days