MMA Blaster Exclusive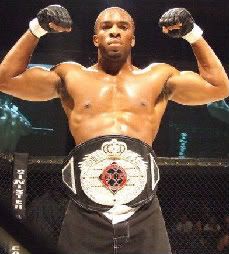 The Ultimate Fighter 7 castmate Gerald Harris recently won at the C3 fighting event, Battle on the Border 2. Harris (7-2) defeated veteran fighter Brandon McDowell (27-24) in 1:21 of the first round via submission due to strikes.
Gerald signed a three fight non-exclusive deal with C3. Therefore, he can fight outside the C3 banner should duty call. Gerald stated that he, "may have a fight as soon as August 17th in North Carolina."
In an effort to improve his game, the former Cleveland State University wrestler is now training with former castmates C.B. Dollaway and Matt Riddle at Arizona Combat Sports. In addition to his two fights on the Ultimate Fighter, Harris is a two fight veteran of the IFL where he always showed a knack for getting takedowns at will.
MMA Blaster wishes Gerald the best in his martial arts career. We will keep you posted on his success.