This Sunday, three belts will be on the line at WEC 35. The announced match-ups include some great fights. I would like to see the Brock Larson v. Carlo Prater match-up make the live broadcast.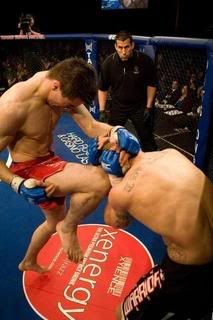 WW Champ Carlos Condit vs. Hiromitsu Miura- Condit has been on a 7 fight win streak, including 4 in the WEC and 3 in Pancrase. In the WEC, Condit has defeated Kyle Jensen, Brock Larson, Carlo Prater and John Alessio. Miura has two straight wins in the WEC after a loss in the 185 division to Jason "Mayhem" Miller.
LHW Champ Brian Stann vs. Steve Cantwell- I would have liked the WEC to bring in a "new" opponent for Brian Stann as he has already TKO'd Cantwell in the first round. I'd like to see Stann tested on the ground at some point. Cantwell does have two straight wins in the WEC.
LW Champ Jamie Varner vs. Marcus Hicks- I would expect this fight to be the best fight on the card. Hicks is undefeated at 10-0, and really does look like a wrecking ball. Varner is coming off a great performance against Razor Rob to win the LW belt. He is an excellent wrestler and striker, with two straight wins in the WEC and one in the UFC. Hicks has some excellent submissions, but Varner will probably have the reach advantage and try to keep the fight standing.
Brian Bowles vs. Damacio Page- Anyone who enjoys the Tapout show will probably be rooting for Damacio Page. Page has two straight wins in two years since his 2006 loss to MMA legend Genki Sudo. Bowles at 6-0 has won all his fights by submission or KO.
Josh Grispi vs. Micah Miller- Submission specialist Micah Miller has won two straight since his decision loss to Cub Swanson. Grispi is on an 8 fight win streak with one win in the WEC.
Undercard
Brock Larson vs. Carlo Prater
Blas Avena vs. Dave Terrel- This is NOT the one that fought in the UFC.
Todd Moore VS. Shane Roller
Mike Budnik vs. Greg McIntyre
Scott Jorgensen vs. Kenji Osawa