UFC 87 saw most of the favorites come out victories in an entertaining card. The Minnesota crowd was very energetic throughout the night.
Champ Georges St. Pierre def. Jon Fitch via unanimous decision- GSP was dominant throughout the entire fight as he laid a punishment on Jon Fitch. St. Pierre got a takedown right off the bat and never stopped getting whatever he wanted the entire fight. Fitch stayed resilient, but couldn't amount a serious offense the entire fight.
In his next fight, St. Pierre will fight the UFC's lightweight champ B.J. Penn. Penn will be moving up to 170 for the fight, which Penn lost via a razor thin split decision at UFC 58.
*MMA Blaster readers were correct in choosing GSP to win 14-4.
Brock Lesnar def. Heath Herring via unanimous decision (all 30-26)- Lesnar landed a massive right hand right off the bat, crumpling Heath Herring and then chasing him to the canvas, tackling the somersaulting Herring. The rest of the fight saw Lesnar takedown Herring at will, knee him in the ribs, and sneak in punches. Herring's eye was swollen, and he didn't do anything throughout the fight but survive.
While Lesnar dominated the fight, he had opportunities to finish the fight and did not capitalize. Lesnar just didn't risk the rear naked choke attempt or an armbar because he was controlling the fight. If Lesnar developed a really good submission game, he could he could be unstoppable. He can get a takedown on virtually anyone in the fight game. If he had better ju-jitsu skills, anything would be possible.
Rob Emerson def. Manny Gamburyan via TKO (strikes)- R1, 0:12- Manny decided to come out swinging wildly and going for a take down. That strategy didn't work as Emerson landed a right hand right on Manny's chin. He went back, and absorbed another punch before going out cold. Manny's head bounced off the canvas a couple times, but he ended up bouncing up and being fine.
Kenny Florian def. Roger Huerta via unanimous decision (all 30-27)- Florian fought a more tactical game to win the fight. Huerta tried to rush in with wild combo's but Florian blocked most of his attack. Florian got the take downs an more clean strikes the entire fight.
Damian Maia def. Jason MacDonald via submission (rear-naked choke)- R3, 2:44- Maia flashed some extreme BJJ skills in this fight. Maia dominated every position, getting close to stopping the fight with elbows and a litany of submission attempts. In the third a Maia got the rear choke in the third.
Cheick Kongo def. Dan Evensen via TKO (strikes)- R1, 4:55- Kongo dominated the first round with devasting strikes and combos. It didn't take long before Evenson had eaten too many punches.
Tamdan McCrory def. Luke Cummo via unanimous decision
Jon Jones def. Andre Gusmao via unanimous decision
Chris Wilson def. Steve Bruno via unanimous decision
Ben Saunders def. Ryan Thomas via submission (arm-bar)- R2, 2:28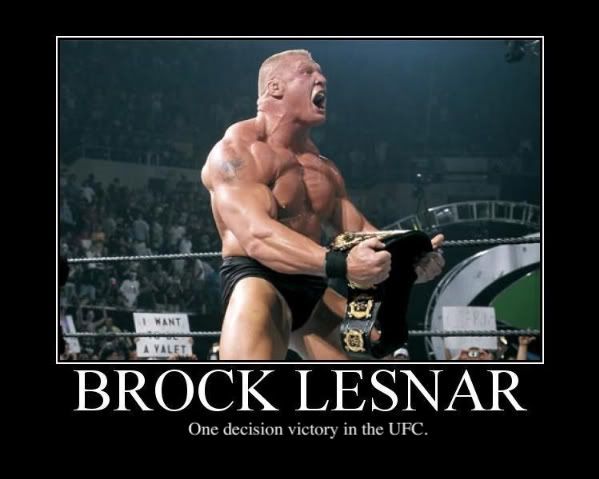 *This is pretty funny considering how much hype Lesnar has been getting.