In a Strikeforce Grand Prix that has already lasted seven months, it is fair to say the luster has been lost to a certain extent. Add in a possible hand injury to finalist Daniel Cormier, as he punished the massive head of Junior "Bigfoot" Silva, and a possible finale might not reach us until the end of the year.
Josh Barnett v. Daniel Cormier-
Barnett (31-5) enters the final of the Grand Prix on slick arm-triangle wins over Brett Rogers and Sergei Kharitonov. The former UFC champ, now known as "The Warmaster" will certainly enter the bout as the favorite, looking to strike to set up a takedown to use his vaunted submission skills.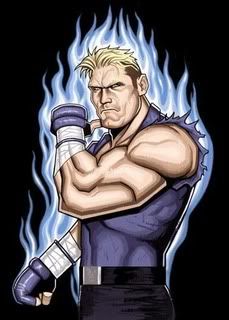 (The Warmaster)
Olympic wrestler Daniel Cormier (9-0) tournament route has been off the beaten path, as he began by winning an alternate bout over Jeff Monson. Cormier then had his breakout win this past weekend knocking out the massive Bigfoot. Cormier will definitely let his hands fly again while mixing in takedowns against Barnett.
Muhammed "King Mo" Lawal v. Rafael "Feijao" Cavalcante part II for LHW Title-
Both men enter the bout on dramatic KO victories. King Mo won his return bout with a first round KO of uber BJJ fighter Roger Gracie, while Feijao (11-3) stopped hyped wrestler Yoel Romero Palacios.
The first bout saw King Mo (8-1), with one bad knee, fighting a stand-up battle and eventually gassing out. A second bout with a healed up Mo would certainly yield fireworks again. The bout could be for the title, as Dan Henderson is without a contract, and likely to return to the UFC.
(King Mo)
Luke Rockhold v. Tim Kennedy for MW Title-
Rockhold (8-1) had a dominant performance against reigning champ Jacare to take the 185 pound Strikeforce title. The only other fighter on a roll is Kennedy (14-3), who has defeated Robbie Lawler and Melvin Manhoef since his decision loss to the aforementioned Jacare. Rockhold has rattled off 7 straight wins.