The Ultimate Fighter 14 debuts tonight, September 21, 2011, with head coaches Jason "Mayhem" Miller opposite Michael Bisping. The show will be the first to feature the lighter weights, with tournaments for the 135 and 145 pound divisions.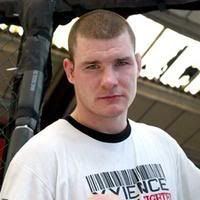 (Michael Bisping pictured)
After multiple complaints, the show will again feature an elimination round to get into the house. As such, there will be 32 fighters starting out, with 16 in each bracket. In addition, there will not be a wild card fight. With injuries a constant in the show, that also is a good move.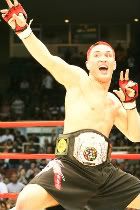 (Jason "Mayhem" Miller pictured)
Listed below are the contestants which have been confirmed on numerous MMA websites and seen in the teaser videos.
The obvious front-runners in the 145 division are Micah Miller and Eric Marriot, each of whom have big show experience with solid overall skills. Hopefully Dana White doesn't match them up in the opening match-ups. The featherweight division has some interesting prospects as well, including KOTC's 135 pound champ Jimmie Rivera, undefeated fighter Stephen Bass, Jesse Newell and Team Alpha Male's Bryan Caraway.
The 135 division seems more open, with experienced John Dodson likely being the favorite, though he normally fights at 125. TJ Dillashaw is an interesting fighter, having wrestled for Cal Sate and training under at Team Alpha Male. Brandon Merkt is an undefeated fighter at 11-0, but really has faced only sub-par competition.
There always seems to be a well traveled veteran that rises to the occasion and notches some wins on the show. With it being the 135 division, several bantamweight fighters have usually fought up one or two weightclasses to get experience. We'll see how 24+ fight vets Matt Jaggers, Paul McVeigh and Johnny Bedford do in the tournament.
135 - Bantamweight
John "The Magician" Dodson (11-5)- Team Jackson trained fighter who normally fights at 125, only losses due to decision. Last fights were victories over John Moraga (7-1) and Jessie Riggleman (10-2). Record also listed at 14-5.
T.J. Dillashaw (4-0)- Based out of Team Alpha Male, Dillashaw was a collegiate wrestler at Cal State Fullerton. Was victorious over then undefeated Taylor McCorriston (5-1) in his last bout via TKO.
Paul McVeigh (18-6)- A BJJ brown belt, owned the Cage Warriors belt in the UK. Enters the tournament on 3 straight wins, his last over Andreas Bernhard (7-2).
Brandon Merkt (11-0)- Fighting out of Wisconsin, Merkt has steamrolled regional competition. Best win over Billy Jochum (10-5).
Matt "Jagger Bomb" Jaggers (20-7)- An Indiana fighter who has fought for Sengoku, Bellator and ShoXC, Jaggers has 17 finishes on his resume. He defeated Orville Smith (11-3) in ShoXC and Peter Dominguez (2-2) in Bellator.
Carson "Little Juggernaut" Beebe (6-1)- Younger brother of former WEC champ Chase Beebe. Training out of the Midwest Training Center, has four stoppage wins out of 6.
Dustin Pague (9-4)- The current Ring of Combat 135 pound champ, Pague has 5 straight wins. Pague, who has delivered all nine of his wins by knockout, technical knockout or submission.
Louis Gaudinot (5-1)- This New York based fighter from Team Tiger Schulmann has fought exclusively in the Ring of Combat organization. Defeated Jesse Riggleman (10-2) in last bout via guillotine.
Johnny Bedford (17-9, also seen 22-9)- A five year fight veteran, Bedford won via rear naked choke over WEC vet Frank Gomez (10-4) in his last bout. All-American wrestler has won belts for the Superior Warrior Championship and Elite Combat League.
Bruce "BJ" Ferguson (6-2)- Won his only big fight against TJ Barber at Bellator 30. Has a KO win over Jeremy Pender (7-2).
Orville "Pooh Bear" Smith (12-3)- Once held the Legends of Fighting 135 pound belt. Fought in ShoXC. Holds a split decision win over castmate Josh Ferguson.
Roland Delorme (6-1)- Fighting out of Winnepeg, Canada, Delorme was 6-0 with 4 subs and 2 TKO's before a split decision loss to Eric Wilson (5-1) in his last fight.
Josh "Taz" Ferguson (7-3)- Younger brother of BJ Ferguson, all seven wins have come via submission. He has not fought since a split decision loss to Jessie Riggleman on 10/3/09.
John "Prince" Albert (6-1)- Was 6-0 with 3 subs and 3 TKO's before last bout, where he lost to Roy Bradshaw via guillotine choke. Fights out of Washington's Victory Athletics.
Casey Dyer (6-1)- A ridiculously tall 6'1" and 135, Dyer has never gone the distance in his MMA career with 3 KO's and 3 Sub wins. Lost his last fight via triangle to Jeremy Pender.
Tateki Matsuda (6-3)- Fighting out of Boston, Matsuda lost to Saul Almeida in his last bout at Bellator 48.
145 - Featherweight
Micah Miller (17-4)- Younger brother of UFC's Cole Miller, Micah last fought at Tachi Palace 7, defeating Isaac DeJesus (9-3) with a neck crank. Has career wins over Diego Saraiva (21-15), Bruce Connors (8-3), Anthony Morrison (16-10) and Jesse Moreng (9-1).
Eric Marriot (20-5)- A Bellator and M-1 veteran, Marriot is a well traveled Midwest fighter. Holds 2 wins and 1 loss against Ryan Roberts (16-9), submission win over Demi Deeds (15-10) and a decision win over Chris Mickle (28-15).
Jimmie "El Terror" Rivera (8-1)- Reigning KOTC 135 pound champ after a 5 round split decision victory over Abel Cullum (18-5). Defended the belt with a decision over Jared Papazian (13-6). Possible that he is in the 135 pound bracket, but everything I've seen has him at 145.
Bryan "Kid Lightning" Caraway (15-5)- A Team Alpha Male fighter based in California, Caraway has fought in the WEC, Strikeforce and Elite XC. Caraway defeated Marlin Weikel (7-2) in his last fight, and has Strikeforce wins over Alex Zuniga and Alvin Cacdac.
Jesse Newell (6-1)- A BJJ purple belt under BJJ master Fabio Leopoldo, and kickboxing instuctor at Gracie Ventura. Newell is the only fighter to beat Diego Grijo (7-1). Only loss to Brandon Bender (8-0). 3 TKO's and 3 submission wins in his career.
Stephen "Bigfish" Bass (10-0)- Fighting out of Champions Training Center in Georgia, Bass is undefeated with 5 submission wins. Has wins over Bellator vet Bryan Goldsby (13-13) and ShoXC vet JC Pennington (21-12).
Hamid "Akira" Corassani (9-3)- Fighting out of Sweden, Corassani has done well on the European MMA circuit with career wins over Graham Turner (17-6), Ivan Buchinger (16-3), and Peter Mettler (7-2).
Marcus Brimage (3-1, incomplete)- This will be the second reality show for Brimage, who was on the worst MMA reality show of all-time, BET's "Iron Ring," where he made the finals. Fighting out of Alabama, Marcus defeated UFC veteran Kyle Bradley (15-8) in his last bout.
Steven "Super" Siler (18-9)- Fighting out of Victory MMA, Siler has fought almost all of his bouts on the Utah circuit. He has defeated well traveled veterans Enoch Wilson (16-7), Nick Mamalis (17-7) and Olly Bradstreet (35-11) once, after dropping three to him.
Josh Clopton (4-0-1)- Training out of San Francisco with Gilbert Melendez, Clopton last fought in November of 2009, taking a split decision over Mike Baskis (3-3).
Dennis "The Menace" Bermudez (7-2)- Began career 7-0, before being subbed in his last two fights. Has a win over UFC veteran Shannon Gugerty.
Diego "Ceara" Brandao (13-7)- Tough 6 year fight veteran currently of Team Jackson MMA and riding a 3 fight win streak, he has compiled 8 KO's and 3 submissions in his career. Originally from Brazil, Diego's big wins have come over Fabiano Silva (16-4), UFC veteran Brian Foster (15-5) and James King (15-10).
Brian Pearman (7-1)- Fighting out of Missouri while training mainly with TUF 12 runner-up Michael Johnson, Pearman notched his biggest win in his last fight with a decision over then undefeated Mike Richman (9-1).
Karsten Lenjoint (7-1)- Fighting out of Wolfslair gym in the UK, Lenjoint's only loss came to TUF 9's Jeff Lawson (14-5). 4 TKO's and 3 subs on his record, with last win a TKO over Dean Reilly (5-2).
Bryson Hansen (5-1)- Fighting out of Hawaii, Hansen has 3 TKO's on his resume. Last bout was a submission loss to Russell Doane (5-0).
Dustin Neace (22-16)- Indiana based fighter has fought exclusively in the Midwest, compiling 18 submissions wins and 4 TKO's. Wins over Corey Mahon (9-4) and Johnny Bedford (17-9) highlight his resume.