This Wednesday, Spike TV will host UFC: Fights for the Troops from Fayetteville, N.C. in conjunction with Fort Bragg. They will be raising money and promoting the Intrepid Fallen Heroes Fund.
Koscheck v. Yoshida is the headlining bout. Koscheck is fresh off a loss to Thiago Alves at UFC 90. Yoshida was supposed to face Karo Parisyan a couple months ago, but Karo was injured. Yoshida's last fight was an awesome 56 second anaconda choke that put War Machine unconscious.
The card also features a bout between Johnathan Goulet v. Mike Swick. Swick is coming off surgery to clear bone fragments from his elbow. Swick last defeated Marcus Davis via unanimous decision. Goulet has won two straight in the UFC over Kuniyoshi Hironoka and Paul Georgieff.
*All fighters made weight except Brodie Farber and Luigi Fioravanti. Farber and Fioravanti are meeting at a catchweight of 174 pounds.
MAIN CARD
Josh Koscheck vs. Yoshiyuki Yoshida
Jonathan Goulet vs. Mike Swick
Razak Al-Hussan vs. Steve Cantwell
Tim Credeur vs. Nate Loughran
Jim Miller vs. Matt Wiman
UNDERCARD
Eddie Sanchez vs. Justin McCully
Steve Bruno vs. Johnny Rees
Ben Saunders vs. Brandon Wolff
Dale Hartt vs. Corey Hill
Brodie Farber vs. Luigi Fioravanti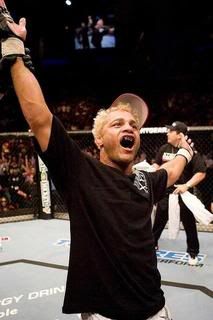 (Josh Koscheck pictured)