The TUF 8 finale lived up to the hype as it featured some excellent fights. Gameplans proved to be key in the tournament finals, as Bader kept the fight standing and Efrain used his superior wrestling.
Efrain Escudero def Phillipe Nover via unanimous decision for the TUF lightweight tournament championship-
Efrain dominated in the takedown and ground and pound department to win a unanimous decision. It was a great strategy as Phillipe didn't have an answer from Efrain's relentless attack. Phillipe's best offense came in the third round when he was able to lock in a shoulder lock/omaplata attempt. Phillipe just couldn't finish the move. Efrain, at 22 years old, has some definite potential in the 155 pound division.
(Efrain Escudero pictured)Ryan Bader def Vinny Magalhaes via TKO (strikes) R1, 2:18 for the TUF light heavyweight tournament championship-
Bader's strategy for the fight was to keep it standing to avoid Vinny's submission game. Bader threws some punches and kicks before a launching a big overhand right. The punch was partially blocked but clipped Vinny in the temple. Vinny crumpled to the canvas, and tried to roll on his back. Unfortunately, Vinny had to eat a few more punches before the ref stepped in. Bader showcased superior power throughout his stint on the show. He will give 205 pounders problems for some time.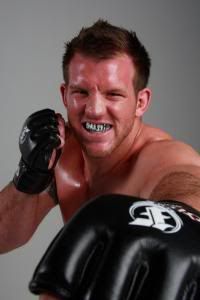 (Ryan Bader pictured)
Anthony Johnson def Kevin Burns via KO(kick) R3, 0:28-
Johnson got revenge after sitting out 5 months after getting poked in the eye in their last fight. Burns was close with a triangle choke attempt in the first but was unsuccessful. In the second, we saw mostly Johnson ground and pound. In the third, Johnson let loose a nasty high kick that saw Johnson's shin strike Burns directly in the jaw. Burns went straight back, knocked unconscious. That kick will be on the UFC's highlight reel for years to come.
*Johnson won KO of the night.
Wilson Gouveia def Jason MacDonald via sub (strikes) R1, 2:18
- Gouveia made short work of Jason MacDonald, despite missing weight by 3 pounds the day before. Gouveia landed a straight right to MacDonald's jaw then a barrage of hammerfists and punches to win the fight.
Junie Browning def Dave Kaplan via sub (armbar) R2, 1:32-
Junie looked crisp in his striking and cardio. He landed strike after strike on Kaplan in the first. To his credit, Kaplan wasn't knocked out. He was armbarred in the second round however, as Junie looked much improved from his time on the show.
*Browning and Kaplan won fight of the night.
Krzysztof Soszynski def Shane Primm via sub (kimura) R2, 3:27-
Krzysztof's awkward stand-up style looked to confuse Shane Primm from the start, as he was able to land punches on Primm. Near the end of the first, Krzysztof almost had a kimura. In the second, Krzystof went for the submission again and tweaked Primm's arm for the tapout.
*Soszynski won submission of the night.
Eliot Marshall def Jules Bruchez via sub (rear-naked choke) R1, 1:27-
Marshall walked through Bruchez to get the rear naked choke.
Tom Lawlor def Kyle Kingsbury via unanimous decision
Shane Nelson def George Roop via split decision
Roli Delgado def John Polakowski via sub (guillotine choke) R2, 2:18