FEG, the same group behind Dream and K-1 will host an annual New Years Eve show on December 31st in Saitama Super Arena in Japan. The event will most likely be broadcast on HDNet at an odd time, so make sure to set your DVR. There are 4 bouts that will be fought under K-1 kickboxing rules. It will be interesting to see top ten fighters Kawajiri(155) and Mousasi(185) fight under K-1 rules. It has been interesting as fights keep getting added as we get closer to fight time.
MMA Fights
Hong Man Choi vs. Mirko "Cro Cop" Filipovic-
Cro Cop is fighting for the first time since his notorious fight with Alistair Overeem. That was called a no contest after repeated Overeem knees to Cro Cop's groin. Cro Cop's career seemed to have peaked in 2006 when he won the Pride Absolute Grand Prix with wins over Josh Barnett, Wanderlei Silva, Hidehiko Yoshida, and Ikuhisa Minowa. Since then he has won over Eddie Sanchez and Tatsuya Mizuno, while not looking himself against Cheick Kongo, Gabriel Gonzaga and Alistair Overeem.
(Cro Cop KO of Don Caras, Jr.)
Hong Man Choi has not fought MMA since a loss last New Years Eve to Fedor. Choi at 7'2" 300 pounds or so will have a distinct size advantage. It will be interesting to see what Cro Cop's gameplan will be. It might be to take Choi down, but Cro Cop will have to take punishment to use that manuever. Interesting fight.
(Hong Man Choi throwing a kick in K-1)
Mark Hunt vs. Jerome Le Banner-
Expect this fight to be a stand-up war. Both fighters excelled in K-1 kickboxing competition. Hunt will be carrying a weight advantage going into the fight. Le Banner beat Junichi Sawayashiki before losing to eventual winner Remy Bonjasky in the 2008 K-1 Grand Prix this year. Le Banner has a 3-1 MMA record and a 74-16 kickboxing record. Among his three MMA victories are Yoshihiro Akiyama and Jimmy Abriz.
*Le Banner has repordedly withdrawn at the last minute due to the flu. Melvin Manhoef will take his place.
(Jerome Le Banner pictured)
Hunt has a prior KO victory over Le Banner in K-1 during his championship run. Hunt is looking for his first win since 2006 as he has lost three MMA fights in a row to Fedor, Alistair Overeem, and Josh Barnett, all top competition. Hunt has notable wins in MMA over Tsuyoshi Kohsaka, Cro Cop, Dan Bobish and Wanderlei Silva. A highly decorated kickboxer, Hunt won the K-1 World Grand Prix in 2001.
(Mark Hunt pictured)
Eddie Alvarez vs. Shin'ya Aoki-
This is the fight most fans are clamoring about as two of the best lightweights will tangle. Alvarez is generally ranked as the number 2 lightweight behind BJ Penn. Alvarez has had a breakout year, notching 4 wins including Joachim Hansen, Tatsuya Kawajiri and Ross Ebanez.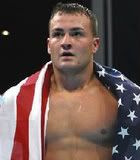 (Eddie Alvarez pictured)
Aoki, a submission wizard, has also had an excellent year, going 4-1 with a win over JZ Calvancante. Aoki has one of the top submissions of the year over Katsuhiko Nagata with a mounted gogoplata. Aoki also has wins over Joachim Hansen, Caol Uno, Jason Black and George Sotiropoulos.
(Aoki choking out Clay French)
Kazushi Sakuraba vs. Kiyoshi Tamura-
Sakuraba is an MMA Legend having wins over Rampage Jackson, Vitor Belfort, Royce Gracie, Renzo Gracie, Masakatsu Funaki, Kevin Randleman and Carlos Newton. He had a three fight winning streak going before losing to knock-out artist Melvin Manhoef at Dream 4. This will be Sakuraba's first fight in 6 months.
(Sakuraba cartwheel guard pass on Vitor Belfort)
While Kiyoshi Tamura is not very well known in the United States, his resume speaks for itself. The 39 year old former pro wrestler, catch wrestler and mixed martial artist has gone 32-13 in his mma career. He is tough with wins over Ikuhisa Minowa, Pat Miletich, Renzo Gracie, Dave Menne and Maurice Smith.
(Tamura getting an armbar on Rony Sefo)

Gesias "JZ" Calvancante vs. Joachim Hansen
- Calvancante's 2008 was not very spectacular as the lightweight was in a no-contest against Shinya Aoki, then lost a unanimous decision to Aoki in Dream 1 and 2. Calvancante is a strong stand-up fighter, and I would expect this fight to be nothing less. JZ has wins over Vitor Ribeiro, Nam Phan, Caol Uno and Rani Yahya. Hansen won a majority decision over JZ in 2004.
(JZ Calvancante pictured)
Joachim Hansen is always a fan favorite with his killer instincts and slug it out mentality. He recently defeated Shinya Aoki for the Dream lightweight tournament championship. Hansen has quick hands, notching him victories over Luiz Azeredo, Masakazu Imanari, Takanori Gomi and Rumina Sato.
(Joachim Hansen pictured)
"Kinniku Mantaro" vs. Bob Sapp-
Wow is all I have to say about this match-up. With the Japanese crowd loving to be entertained, this match will feature Japanese wrester Akihito Tanaka wearing a mask of anime charater Kinniku Mantaro. Bob Sapp is already enough of a character. This match will be interesting to say the least.
Semmy Schilt vs. Siala "Mighty Mo" Siliga-
This is a fight between two excellent stand-up oriented fighters. Schilt has won the K-1 Grand Prix, and Mighty Mo is renowned for his punching power. Schilt will have the size advantage as he stands
6'
11".
Daisuke Nakamura vs. Hideo Tokoro
- These are two veteran Japanese fighters. Nakamura (18-9) is a Pride, Dream, M-1 and Deep veteran who owns 11 submission victories. Tokoro (21-14) is a Dream, K-1 and Shooto veteran who owns 13 submission victories.
Hayato "Mach" Sakurai vs. Katsuyori Shibata
Andy Ologun vs. Yukio Sakaguchi
Ikuhisa "Minowaman" Minowa vs. Errol Zimmerman
K-1 Fights
Alistair Overeem v. Badr Hari- This fight was recently signed. Hari, an elite K-1 level kickboxer, advanced to the 2008 K-1 Grand Prix finals before getting DQ'd in a match against Remy Bonjasky. Hari, in a very strange sequence, took Bonjasky to the ground, threw some punches, and then a foot stomp. Hari, who completely disregarded K-1 rules, never fully explained the incident. Hari has around 78 kickboxing victories to around 8 defeats. He is a former K-1 HW champ.
Alistair Overeem has seen some controversy this year as well, when he had a fight ruled a no contest after repeatedly striking Mirko Cro Cop in the groin. Overeem had a sizable advantage on the judges scorecards when he used that tactic. Overeem has a 4 fight win streak, having beat Paul Buentello, Tae Hyun Lee, Mark Hunt and Gary Goodridge all before the end of the second round. His kickboxing record is around 4 wins to 2 defeats, but hasn't competed in professional kickboxing in a long time.
My guess is that K-1 wants to get these fighters for the publicity they will generate. Alistair has to be getting paid mega dollars to take this match under K-1 rules.
Hiroya vs. Shimada Shota
Kusakabe Ryuya vs. Urabe Koya
Tatsuya Kawajiri vs. Kozo Takeda
Gegard Mousasi vs. Musashi
Artur Kyshenko vs. Yoshihiro Sato