The Brock Lesnar era has officially begun as the behemouth secured his first MMA title in the form of the UFC heavyweight title belt. The card scored a live gate of 4.8 million in a sold out MGM Grand in Las Vegas. I'll keep you posted on the ppv numbers, I believe it will probably break the mma record. I was happy each fight made it to air, as only one fight went to decision. UFC 91 turned out a very good card with exciting fights.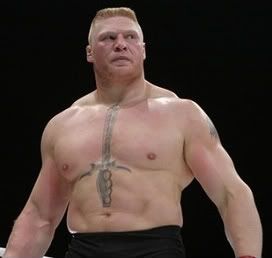 (Brock Lesnar pictured)

Matt Brown def Ryan Thomas via Submission (Armbar), R2 0:57
- Ryan Thomas was consistently able to get takedowns on Matt Brown throughout the fight. However, Brown was able to continue to work his submission game and eventually got Ryan Thomas to over commit on the ground. Thomas ended up in a tight armbar, and was unable to slam his way out of it.
Mark Bocek def Alvin Robinson via Submission (Rear-Naked Choke), R3 3:16-
Bocek out grappled Robinson throughout the fight, keeping Robinson in bad positions. Bocek landed hard punches throughout the fight and it was only a matter of time before he locked up the choke after being extremely calm while having Robinson's back.
Jeremy Stephens def Rafael dos Anjos via KO (uppercut), R3 0:39-
This was an awesome fight as Stephens came back from after losing the first two rounds. Dos Anjos had Stephens in near submissions. In the third round, Stephens loaded up a massive uppercut that found its mark directly to dos Anjos jaw droppin gthe fighter to the ground.
*Given KO of the night fight bonus.

Aaron Riley def Jorge Gurgel via Decision (Unanimous)-
This fight was shown after the Lesnar v. Couture fight. The fight boiled down to a kickboxing match and both fighters were content to stand and trade. Riley was a little more crisp with his punches, many of which found their mark. Gurgel scored consistently with body and leg kicks. Riley had a couple takedowns and controlled the fight more than Gurgel. All three judges scored the fight 29-28 for Riley.
*Both fighters awarded fight of the night bonuses.
Demian Maia def Nate Quarry via Submission (Rear-Naked Choke), R1 2:13-
Maia put on yet another awesome display of ju-jitsu against the hard hitting Nate Quarry. Maia pulled guard, executed a sweep and then eventually got Quarry's back. From there it was only a matter of time before Maia secured the rear naked choke. Maia now has 4 straight submission wins in the UFC and is 9-0 overall. Maia is rumored to be a possible coach for the next TUF reality show.


Gabriel Gonzaga def Josh Hendricks via KO (Punches), R1 1:01-
Gonzaga was just too much for Hendricks in this heavyweight clash. Hendricks and Gonzaga clinched before Gonzaga landed a hook and then put a perfect right straigt to Hendricks to drop him. Gonzaga put a couple more punches before the fight was called. Gonzaga has two straight quick victories since his back to back defeats to Couture and Werdum.
Dustin Hazelett def Tamdan McCrory via Submission (Reverse Armbar), R1 3:59-
Hazelett withstood an early McCrory flurry to throw a nice high kick that partially connected. When the fight went to the mat, Hazelett looked slick. Hazelett transitioned from an omaplata to a reverse armbar for the finish. Hazelett stated he wanted to be the top BJJ guy in the 170 pound division. That was Hazelett's second win in a row since a loss to Josh Koscheck. Both came via submission.
*Hazelett awarded submission of the night.
Kenny Florian def Joe Stevenson via Submission (Rear-naked choke), R1 4:03-
Florian continued on his dominant run imposing his will on Joe Stevenson. Landing some strikes, Florian was taken down, but got back up. Once up, Florian got his own takedown before delivering a nasty right hand. He next mounted Stevenson and eventually got the rear naked choke. With the victory, Florian has set himself up for a title shot against BJ Penn. Florian now has 6 wins straight in the UFC since a title loss to Sean Sherk. All wins have come via submission or TKO.
(Pictured Kenny Florian)
Brock Lesnar def Randy Couture via TKO (Punches), R2 3:07-
This fight lived up to the hype as it had everyone in the bar I was at on their feet. Lesnar, an NCAA champion in wrestling, has legitimized his status of an elite mixed martial artist with the win. Lesnar used his size to his advantage in the first round, as it appeared Couture was using more energy in the first. Lesnar and Couture each threw knee's from the clinch, but Lesnar landed them more effectively. Couture punched well in the clinch, sneaking a couple in to Lesnar's face.
In the second, Lesnar landed a punch and elbow in the clinch dazing Couture. From there he threw a massive overhand right that hit Couture near the back of the head. Lesnar followed Couture to the ground and unleased about 10 or more hammerfists to the face before the ref stopped the fight. Lesnar captures the UFC HW belt. "I can't believe it" proclaimed the new champ.
*Lesnar will face the winner of Frank Mir v. Antonio Rodrigo Nogueira next.
*I still can't believe that people don't arrive till the 3rd or 4th fight in Vegas.