This episode featured the final first round match-up between lightweights John Polakowski and George Roop. Both are good stand-up fighters, but George believed he held the edge on the ground. Unfortunately for George a few days before his fight he got a finger jammed into the fence and it injured his hand.
The episode featured John's affection for hugs and George's injury. John is seen in a montage giving hugs to all members of both teams including the coaching staff. Funny to see John try to give Mir a hug. The hugs even get to tough guy Junie Browning, as Junie says that he likes the guy.
George's injury seems pretty bad as his hand swelled pretty huge. Throughout the episode the hand was either submerged in water or being massaged.
The fight started with one of the oddest things I've ever seen, a hug in the ring instead of the glove touch. I don't even want to see the glove touch, so I'm definately not a fan. Save the hugging for after the fight.
Roop was able to land some high kicks while John tries to work punches inside. When stepping forward, Roop is able to get a takedown. Roop then lands ground and pound before getting John's back. John is able to reverse and throw some ground and pound of his own to close out the round. I gave the round to Roop.
In the second, Roop eats some hard straight punches to the face and looks rattled. Roop begins throwing punches with his bad hand and eventually gets the takedown. From there he locks in a body triangle with John's back and rides out the fight. I thought the round was pretty even. The decision comes back for George Roop.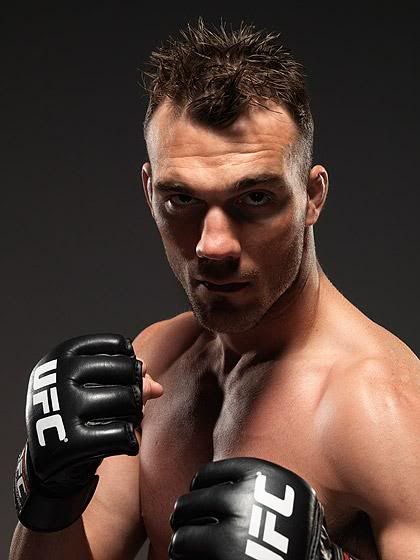 (George Roop pictured)
The final four in each bracket are decided next. Not too many surprises as Junie had previously called out Efrain Escudero and Eliot Marshall called out Ryan Bader. They will be showing two fights in the final two episodes.
LW Match-ups-
Junie Browning(Mir) v. Efrain Escudero(Nog)
George Roop(Mir) v. Phillipe Nover(Nog)
LHW Match-ups-
Eliot Marshall(Mir) v. Ryan Bader(Nog)
Vinny Magalhaes(Mir) v. Krzysztof Soszynski(Mir)