The latest episode of TUF 10 - Heavyweights featured a fight between youtube legend Kimbo Slice and Roy "Big Country" Nelson. The episode featured a nice mix of training and fight footage.
In the lead-in to the fight, Kimbo's training mainly focused on how to get up, how to get off his back and what he would do to get off the ground. Unfortunately for Rampage, he didn't know who Roy Nelson was during evaluations. Now, I'm guessing Rampage has an idea. It seemed Team Rampage coach Tiki Ghosen has his hands full.
Rashad had good things to say about Roy Nelson, who he described as an independent fighter. Roy trains often out of his garage, is self-managed and procures his own sponsorships. At the house, one scene featured Team Rashad intently listening to Roy Nelson talk about a crucifix he liked to use. With the arm trapped, and in half guard, you rain down punches.
Meanwhile, Rashad Evans friend and training parter Keith Jardine showed up. While Rampage was initially cordial to Jardine, Rashad had to start talking trash. That left Rampage bringing out the bad breath jokes and eventually getting into it with Team Rashad fighter James McSweeney.
The fight itself played out how many thought it would. In the first round, the two fighters went through a feeling out process before Nelson got Kimbo up against the cage. He used position to eventually get a trip takedown and get mount. With not much going in mount, Nelson looked for the crucifix, trapped the arm, and began to punch Kimbo's head. With not much damage done, the round ended.
In the second, Kimbo came out firing. He clipped Roy with a couple decent punches, but when he tried a knee, Nelson took advantage. With a knee up, Nelson took Kimbo to the mat again. From there, Nelson got in half-guard and began punching Kimbo again. Ref Herb Dean was forced to stop the fight.
After the fight, the rotund Roy Nelson asked Dana White for a Whopper as he celebrated the victory. While Kimbo felt bad for the loss, he knew he would learn from the experience.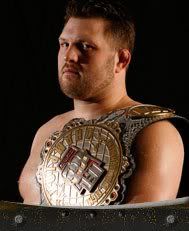 (Roy Nelson pictured)
TEAM RASHAD 3 TEAM RAMPAGE 0
2nd Round Qualifiers - Jon Madsen, James McSweeney, Roy Nelson