UFC 95 will be taking place this Saturday in London, England. Lucky for us fans, the event will be shown live on Spike TV. All fighters made weight and will be ready to go tomorrow.
Diego Sanchez vs. Joe Stevenson
- The main event pits two TUF champs against eachother in a 155 pound bout. This will be Diego's first match at 155 pounds. I expect Diego to try to keep the fight standing, attempting to utilize his reach advantage. Stevenson will likely try to take the fight to the ground looking for ground and pound.
Sanchez (19-2) has been on a roll beating Luigi Fioravanti and David Bielkheden in his last two bouts. Previous to those bouts, Diego lost two decisions to Josh Koscheck and Jon Fitch, while battling a staff infection that took a chunk out of his leg. Diego has big wins against Kenny Florian, Jorge Santiago, Joe Riggs, Nick Diaz and Karo Parisyan.
(Diego Sanchez pictured)
Joe Stevenson (29-9) enters this bout needing a win to stay relevant as a contender in the 155 pound division. In his last three bouts he has lost to #1 contender Kenny Florian, beat Gleison Tibau, and lost a title fight with BJ Penn. Stevenson has been fighting since he was 17 and has big wins over Melvin Guillard, Dokonjonosuke Mishima, Luke Cummo and Kurt Pellegrino.
(Joe Stevenson pictured)
Dan Hardy vs. Rory Markham
- This fight pits hometown English fighter Dan Hardy (20-6) against hard hitting Midwestern brawler Rory Markham (16-4). In Markham's debut, he destroyed Brodie Farbar with the nastiest head kick of 2008. He will be looking to brawl and get the KO of the night. In his 16 wins, he has 11 KO/TKO's and 5 submissions. Markum's big wins have come over Brad Blackburn, Pat Healy and Mike Pyle.
(Rory Markham gif)
Dan Hardy is a solid fighter with technically sound stand-up. At 6 feet tall, he usually has a reach advantage when he fights. Hardy won a razor thin split decision over Akihiro Gono in his UFC debut. Hardy's big wins have come over Hidetaka Monma, Chad Reiner and
Daniel Weichel.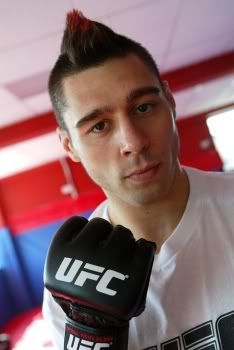 Dan Hardy pictured
Wilson Gouveia vs. Nate Marquardt-
A win by each of these 185 pound vets would put them that much closer to a potential title shot. Marquardt (27-8-2) is a former King of Pancrase who has gone 6-2 in the UFC. In his last fight he overwelmed Martin Kampmann in a first round TKO. Marquardt has victories over Jeremy Horn, Dean Lister, Joe Doerksen, Kazou Misaki and Yves Edwards. Look for Marquardt to take Gouveia to the mat.
(Nate Marquardt pictured)
Wilson Gouveia (12-5) started at 205 pounds in the UFC before moving down to the 185 pound division. The American Top Team fighter mainly can strike and has a BJJ blackbelt. Gouveia has 7 submission and 4 (T)KO wins with victories over Jason MacDonald, Jason Lambert, Jon Fitch and Seth Petruzelli in his career.
Demian Maia vs. Chael Sonnen
- This bout would seem to be a grappling war. BJJ blackbelt Demian Maia has made everyone he's fought in the UFC look out of his league. Chael Sonnen is a superb wresler who will probably stand and trade with Maia, using his wrestling to keep the fight standing.
Demian Maia (9-0) has dazzled submitting each of his four UFC opponents. He has wins over Nate Quarry, Jason MacDonald, Ed Herman and Ryan Jensen in the UFC, securing submission of the night honors three times. Maia also won the 2007 ADCC submission grappling 83 KG division.
Chael Sonnen (21-9) has gone 7-1 in his last eight fights beating Paulo Filho in an odd bout in the WEC. Since the 185 pound division dissolved, Chael made the jump to the UFC, his second stint in the promotion. Chael's career has seen him defeat Tim Credeur, Amar Suloev, Trevor Prangley and Jason "Mayhem" Miller.
Josh Koscheck vs. Paulo Thiago
- TUF 1 alumnus Josh Koscheck (12-3) is coming off a highlight reel KO victory over Yoshiyuki Yoshida. Josh is a highly decorated wrestler who has devoted himself to learning the striking game. Koscheck has victories over Diego Sanchez, Dustin Hazelett and Dave Menne in the UFC.
Paul Thiago (10-0) is a relevative unknown in this fight. He has fouht primarily in the Brazilian promotion Jungle Fight. This will be his first fight in the United States. He has 7 submission victories with a win over Luis Dutra Jr.(7-2) and Ferrid Kheder (10-4).
UNDERCARD
Junior dos Santos vs. Stefan Struve
Brian Cobb vs. Terry Etim
Paul Kelly vs. Troy Mandaloniz
Mike Ciesnolevicz vs. Neil Grove
Evan Dunham vs. Per Eklund