UFC 95 may not of had a title fight, but the card delivered. In what was the most entertaining card of 2009, we saw 6 KO's, 2 submissions and only one decision in the 9 fights that aired on Spike TV.
Mike Ciesnolevicz def Neil Grove via sub (heel hook)- R1, 1:03- Mike C tried for a takedown, but was unsuccessful with Grove landing in top position. From there both fighters went for leg locks, with Grove looking for a straight ankle lock. Mike C got a heel hook close to his body and when he torqued it the knee appeared to pop and the fight was over. Hopefully Grove didn't suffer a bad knee injury.
Evan Dunham def Per Eklund via TKO, R1, 2:13- Dunham took a punch or two before unloading a left hand to the face of Eklund. After Eklund went down, Dunham continued delivering punishment until the ref called the fight.
Junior dos Santos def Stefan Struve via TKO- R1, 0:54- The tall Struve looked like a kid facing an adult in his match with dos Santos. When dos Santos was able to get inside on the taller Struve, it was all over as dos Santos landed a left and right crumpling the bigger fighter.
Terry Etim def Brian Cobb via TKO- R2, 0:10- Terry Etim put on a dazzling striking display as he dominated late replacement Brian Cobb. Etim looked good with varying kicks and punches. Cobb was able to get takedowns on Etim, but couldn't do anything in top position. In the second, Etim landed a kick to Cobb's face then finished him off.
Paulo Thiago def Josh Koscheck via TKO, R1 3:29- In the upset of the night, Paulo Thiago made a name for himself by knocking out heralded fighter Josh Koscheck. Entering the fight as a huge underdog, Thiago took a couple clean shots from Koscheck as the fight began. Kos seemed to be getting the better of Thiago, stalking him around the cage. However, Kos was caught by a nasty uppercut and then clipped with a hook before hitting the ground. The ref stepped in as Thiago knew it was over. Koscheck disputed the stoppage, but the replay showed it was the correct call.
*KO of the night bonus awarded to Thiago.
Demian Maia def Chael Sonnen via Sub (Triangle Choke) R1, 2:37- Demian Maia continued to dazzle as he submitted Chael Sonnen. Maia threw Sonnnen with a lateral throw landing in top position. From there, he locked in a triangle, rolled, and then had Maia tapping.
*Submission of the night bonus awarded to Maia.
Nate Marquardt def Wilson Gouveia via TKO (Knee and Punches) R3, 3:10- Marquardt was in his element as he had his way with Gouveia throughout the fight. Marquardt consistently landed push kicks, leg kicks and attempted high kicks. Marquardt was able to get a couple takedowns as well. In the third, Marquardt landed a jumping knee and straight punch. With Goeveia backing up, Marquardt threw kicks, a spinning backfist, knees and punches before the ref jumped in to stop the action. Marquardt looks poised for a title shot.
Dan Hardy def Rory Markham via KO (Punch) R1, 1:09- Markham came in looking for another knockout of the night bonus, but that didn't happen. Markham threw a huge overhand right which was countered by a left hook from Hardy. Markham protested the stoppage, but it was justified.
Diego Sanchez def Joe Stevenson via Dec (Unanimous)- In what turned out to be a close fight, Sanchez and Stevenson spent most of the fight trading punches. Diego did enough to win, landing more strikes overall. The closest Stevenson came to victory was a second round attempt at a guillotine choke.
*Sanchez and Stevenson win fight of the night bonus.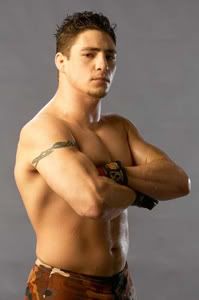 (Diego Sanchez pictured)
Un-aired bout- Paul Kelly def. Troy Mandaloniz via Dec (Unanimous)