Season Six Finale Recap by the MMA Blaster
Anyone who was upset at the uneventful UFC 78 should have been rejoicing after seeing the latest Ultimate Fighter Finale. Season Six wrapped up with a bang with exciting fight after exciting fight. Even though I was a little disappointed at the showing of Tom Speer, the card was great. As you can see by the results there was only one fight that went to a decision and that usually guarantees there were some fireworks. In terms of grades I would give this card an A.
Huerta v. Guida will definately get fight of the year consideration. The fight was an absolute war with Guida beating Huerta pretty bad in the first two rounds. Huerta was able to come back somehow in the third round, a round which he knew he had to do something to finish the fight. He came out with everything he had, hitting Guida with punches and knees that found their mark. Huerta was able to get Guida's back and won with a rear naked choke with just 31 seconds to spare. Because of this victory, Huerta better get a shot at the winner of Stevenson v. Penn.
Full results:
1 Jonathan Goulet defeats Paul Georgieff Submission (Rear-Naked Choke) 1 4:42
2 Roman Mitichyan defeats Dorian Price Submission (Ankle lock) 1 0:23
3 Matt Arroyo defeats John Kolosci Submission (Armbar) 1 4:42
4 Troy Mandaloniz defeats Richie Hightower KO 1 4:20
5 Ben Saunders defeats Daniel Barrera Decision (Unanimous) 3 5:00
6 George Sotiropoulos defeats Billy Miles Submission (Rear-Naked Choke) 1 1:36
7 Jon Koppenhaver defeats Jared Rollins TKO (Strikes) 3 2:01
8 Mac Danzig defeats Tom Speer Submission (Rear-Naked Choke) 1 2:01
9 Roger Huerta defeats Clay Guida Submission (Rear-Naked Choke) 3 0:31
Thoughts on the TUF fights
Ben Saunders needs to develop takedown defense because Barrera was able to get takedowns whenever he wanted. Saunders does have potential to be a UFC star with solid kicks, punches, and submission defense and offense.
Sotiropoulos should have taken on a tougher opponent because Billy has little submission defense or striking ability. George outclassed Billy.
Koppenhaver showed heart and determination in a great fight with Jared Rollins. This was a three round battle that went back and forth with J-Roc and War doing damage. After being wobbled, War Machine was able to sweep J-Roc and knock him out cold with elbows and punches with little time left in the third. This was my second favorite fight of the night.
Mandaloniz v. Hightower was a pretty exciting fight. There were times when Hightower was getting the most of the action, but then he was stunned by some huge shots and pounded out by Rude Boy.
Danzig beat Speer just two minutes into the action. Seemed like Tommy may have been a little gun shy being on the big stage for the first time in his fight career. He didn't look like himself and Danzig capitalized.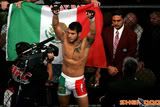 Photo from Sherdog