Thoughts by the MMA Blaster
The website mmascoops.com is reporting that Elite XC is trying to stage a 4 man tournament. While there is no confirmation of this on Elite XC's website, it got me to thinking what the tourney would look like. It is rumored to be an open, no weight limit, tournament with Tank Abbott, Kimbo Slice, Butterbean, and Bob Sapp are supposed to be invited.
The odds of all these four accepting the invite to the rumored tournament is at tops 5%. Tourney's are fun, but I'd like to see Elite XC try to find some better fighters. The only one out of those four I'd expect to show up is Kimbo Slice (under contract). Here are some bio's on these four larger than life personalities:
Kevin Ferguson aka Kimbo Slice (1-0)- Legendary streetfighter turned mixed martial artist. Clips of him KO'ing fools is popular on Youtube. He TKO'd a scared looking Bo Cantrell (10-11) in his debut fight. Kimbo would be the lightest fighter of the group, have the best cardio, but the least experience.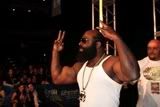 Bob Sapp (9-2)- Sapp was a former pro football player who ventured into MMA. His popularity has been the highest in Japan where he was a pro wrestler, K1 kickboxer, tv star(youtube), and MMA fighter in Pride then K1. Sapp put a beatdown on Bobby Ologun (2-2) overwelming him with huge punches in the first round in K-1 Dynamite. That was his first MMA fight in two years.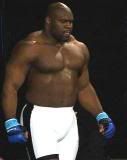 Tank Abbott (9-13)- Tank Abbott was a crowd and fan favorite in the early UFC's. In UFC 6, he destroyed John Matua and Paul Varelens and lost an exciting final to Oleg Taktarov. Tank also made it to the final of UU96, where he destroyed Cal Worsham and Steve Nelmark before losing an exciting final against Don Frye. There are rumors that Tank is taking training seriously again, but that has been said before.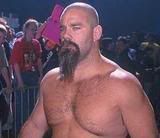 Eric "Butterbean" Esch (10-4)- Butterbean was an exciting boxer in his day, having extremely heavy hands. He has fought in Cage Rage and Pride at around 400 pounds. He keylocked the massive Zuluzinho, had a controversial KO stoppage against James Thompson and a win over Cabbage Correia. Cardio is probably the biggest thorn in the side of Butterbean, also getting up from the canvas after a takedown.