News by the MMA Blaster
Shad Lierley has posted the following in a bulletin on Myspace:
"If you haven't heard I will no longer be fighting Chris in the GP finals due to a broken toe. The toe broke off, and the bone was protruding through the skin. At first I thought I would still be able to fight with the injury, but sometimes it's more important to be a smart fighter than a tough fighter.
The doctor told me there's no amount of Lidocaine that would numb the excruciating pain that I would feel in the fight. He also informed me that no amount of tape could keep the sharp bone from protruding through the skin and tape. Furthermore he said that re-breaking the bone would be the least of my concerns, it would be the likely infections to follow that I'd have to worry about.
I'd like to apologize to everyone that has bought tickets to come see me fight. I'd also like to thank everyone for all their support."
Looks like Shad is out of the 155 pound IFL GP title fight against Chris Horodecki. That must be extreme disappointment to the IFL. Reading that bulletin post however would make me want Shad to err on the side of caution.
The IFL basically inserted Shad into the finals, despite Shad not competing in the first round of the tourney, to try to recapture the "fight of the year" magic. Shad and Horodecki fought in a bout on June 1st of 2007 that was action packed. Shad was 2-1 in the IFL this year and had a case to make the GP.
I wish the best for Shad and hope this injury isn't as nasty as it sounds. "The toe broke off, and the bone was protruding through the skin." That is harsh, get well soon.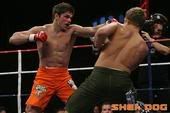 It appears that Ryan Schultz is replacing Lierley at the finals. John Gunderson was first rumored as the replacement. Schultz (17-9) lost previously to Horodecki by TKO in the second round on 11/2/06. Schultz is the lone person to hold a win over Roger Huerta (20-1-1).