It keeps getting harder to stay undefeated with 3 or more wins in MMA. In addition to staying injury free and finding fights, a fighter also needs a little luck in hoping their opponent makes it to the fight. There are some interesting names in this list, many of whom will soon be fighting in the UFC, Bellator and WSOF. The deeper you go, the more obscure the names will be.
If you have a fighter you want me to list who was 3-0 or better in
pro fights
in 2013 that are documented on a legit MMA website, please list them in the comments and I'll get them up.
15-0
Julio Cesar Neves, Jr.- The 145 pound "Morceguinho" fought anyone who was willing to get in the cage with him in 2013. The 19 year old pushed his overall record to 28-0, and is rumored to have signed with Bellator to debut in the coming season. His best wins were probably over Maikon Jonathan de Carvalho (8-4) and Dener dos Santos (11-7) in 2013. There were several 0-1, 0-2, 2-2, type fighters on his win list. Nevertheless, he notched 10 KO/TKO's and 4 submissions. It will be interesting to see how he does against real competition.
8-0
Kevin Croom- The tall 135 pounder went on a Travis Fulton-esque run in 2013, fighting mainly near his home base of Kansas City, highlighted with a 1st round TKO win over Brian Davidson (11-4) at RFC 6 but also venturing out beating hometown fighters. He went to Ciudad Juarez, Mexico where he TKO'd Javier Lujan in World MMA and Almaty, Kazakhstan where he TKO'd Aslan Toktarbaev (6-2) in the Alash Pride promotion. Croom also won his kickboxing debut World Striking Challenge 1 in Miami, Florida.
5-0
Alexey Oleinik- The Russian Boa Constrictor went 5-0 in 2013 with 4 quality wins to punch his ticket to the UFC. The Bellator and M-1 submission fighter started the year by TKO'ing Leo Pla before submitting former KOTC champ Tony Lopez with a triangle choke, submitting UFC veteran Jeff Monson with a rear naked choke, submitting Dion Staring before getting his best win, a neck crank submission win over Mirko Cro Cop.
Jared Rosholt- The 3X All American HW wrestler out of Oklahoma State had a big 2013, culminating with his UFC debut. Rosholt started the year by winning a decision over Richard Odoms, then a decision over Bobby Brents, before a TKO of Richard White, KO of Jacob Walraven, then a decision over Walt Harris in the UFC.
Luis "Sapo" Santos- After a disappointing Bellator run, Santos rebounded in 2013 with five first round finishes. Fighting primarily in the XFC promotion, he started with a TKO over TUF vet Shamar Bailey, then TKO'd Sebastian Latorre, KO'd Dave Courchaine with a head kick, KO'd Justin Davis with a head kick, then submitted Edilson Franca with a kneebar. With a record of 59-6, with several unreported bouts, expect Santos to stay busy in 2014.
Nazareno Malegarie- "El Tigre" bounced back from an unsuccessful Bellator stint, notching 2 subs and 2 TKO's in 2013. His best win was a decision over Jose Souza (19-12).
Thomas De Almeida- The undefeated 22 year old Brazilian Chute Boxe 135 pound fighter pushed his record to 15-0 in 2013, notching 5 TKO/KO's in 6 months, with only one bout making it out of the 1st round. After winning 4 times in his native Brazil, De Almeida TKO'd George Pacurariu at LFC 26.
Henry Cejudo- The 2008 freestyle wrestling gold medalist began his pro MMA career in 2013, notching 3 TKO's and 1 sub via punches. Facing less than stellar competition, his biggest win was in his Legacy FC debut, winning a decision against Ryan Hollis, then 4-1. Cejudo returns to Legacy FC on January 31st, when he takes on Elias Garcia (4-0).
Magomed Biboulatov- "Gladiator" turned pro in 2013, going a perfect 5-0 while notching 3 subs and 2 decision wins. He ended the year with a decision over previously unbeated Taylor Lapilus who was then 5-0.
Livia Souza- "Livinha" began her pro career in 2013, notching 4 submissions and a decision win over Aline Sattelmayer (5-4) at Talent MMA 4.
Kalindra Faria- The Brazilian had 2 TKO's and 3 subs in 2013, with her most impressive win over Carina Damm (21-10) at MMASH - Super Heros.
Larissa Pacheco- The Brazilian 135 pound prospect moved to 9-0 in 2013 by notching 3 subs and 2 TKO's. Her best win was TKO over Irene Aldana, then 3-0, in Jungle Fight.
4-0
Urijah Faber- Pushing himself into the number 1 contender spot at 135, the former WEC champ had an awesome 2013. Faber had 3 submission wins, including a submission of the night performance in his most recent bout against Michael McDonald. Faber posted rear naked choke wins over Ivan Menjivar and Scott Jorgensen to start the year. His only decision was over Iuri Alcantara, which saw Faber get in trouble and lose a round, then win the next two for the decision victory. With Dominick Cruz getting injured yet again, Faber will meet Renan Barao for the BW title at UFC 169.
Emmanuel Newton- The Hardcore Kid burst on the MMA scene in 2013 dominating Bellator's 205 pound division. In the opening round of the Season 8 tournament, Newton submitted Atanas Djambazov before notching one of the biggest upsets in 2013 by KO'ing King Mo Lawal with a spinning backfist. Newton would take the tournament title with a win over Mikhail Zayats, then take a decision over King Mo in a rematch to take the Interim belt. With LHW champ Atilla Vegh bitten by the injury bug, it could be awhile before a unification fight.
Ryan LaFlare- A five year pro, Ryan LaFlare made a name for himself in 2013. He started the year returning from a three year layoff due to wrist and knee injuries, capturing the ROC welterweight belt by submitting Andrew Osborne. Making his UFC debut at UFC on Fuel 9, he defeated Ben Alloway via decision. He next was dominant in his decision win over Santiago Ponzinibbio before winning a decision on short notice against TUF champ Court McGee.
Sergio Pettis- The 20 year old younger brother of UFC LW champ Anthony Pettis had his best year as a pro fighter, making a successful UFC debut with a decision win over Will Campuzano at UFC 167. After beating James Robinson via decision, the inaugural RFA BW belt by KO'ing Dillard Pegg in the 1st round, then won the NAFC BW belt with a kimura over James Porter. Expect Pettis to stay active in 2014, eventually getting a test against an experienced grappler.
Charlie Brennemen- The Spaniard made a push to get back to the UFC, taking the CFFC lightweight title against Kyle Baker via rear naked choke. With 3 submission wins, Brennemen will be looking for a finish in his return to the UFC at UFN 35 against undefeated Beneil Dariush.
John Howard- Doomsday notched 2 first round KO's to start the year in 2013 against Jason Louck and Chris Woodall, before returning to the UFC on short notice to defeat Uriah Hall via split decision and win a unanimous decision over Siyar Bahadurzada at UFC 168.
Alida Gray- The judo fighter will next fight Jessica Aguilar at WSOF 8 for the inaugural 115 pound title. She began her pro career in 2013, with 3 TKO's and a submission over Patricia Vidonic (9-6).
Lauren Murphy- Finishing the year by taking the inaugural women's BW title in Invicta FC, the Gracie Barra product will likely join the UFC soon. After not fighting at all in 2012, Murphy started the year with a TKO of Jennifer Scott, before rattling off 3 wins in Invicta, beating quality veterans Kaitlin Young, Sarah D'Alelio and TKO'ing Miriam Nakamoto.
Carlos Diego Ferreira- The Brazilian lightweight had a breakthrough 2013, winning 3 in Legacy Fighting Championships to take the 155 pound title in his last bout. He started the year by subbing Danny Salinas, then won a decisions over UFC vet Carlo Prater, previously undefeated Chris Heist then took the belt winning over Pride/Strikeforce veteran Jorge Patino.
Chris Lokteff- The Australian HW prospect won 4 straight in 2013 to push his record to 12-1. The 27 year old started the year by TKO'ing Peter Kennedy with knees, then submitted Andrew Machin and Cam Bracewell, before a decision over Bellator and KOTC veteran Tony Johnson.
Joanne Calderwood- "Jojo" won 3 fights in Invicta and 1 in Cage Warriors to extend her professional record to 8-0 and earn a spot on TUF 20, which will result in the crowning of the first UFC women's 115 pound champion. The BJJ blue belts best win was over Katja Kankaanpaa, then 8-0, in Invicta.
Kalib Starnes- The TUF 3 and UFC veteran at 185 had a bounce back year fighting exclusively in Canada at 205 and over, which culminated with a standing elbow KO of Dwayne Lewis on the televised broadcast of WSOF 7. He added a TKO's of Clay Davidson and David Perron with a decision over UFC veteran Tim Hague at HW. Expect Starnes to get a high profile fight next in WSOF and a potential shot at their inaugural LHW belt.
Alan "Nuguette" Alves- From fighting in Jungle Fight to getting a ticket into the UFC, Alves pushed his record to 11-0 in 2013. He started the year TKO'ing Murilo Filho, then won decisions against Kelles Santos and Claudiere Freitas before a 1st round TKO of Garret Whitely at UFN 29 in his UFC debut. He fights John Makdessi next at UFC 169.
Satoshi Ishii- The Japanese heavyweight beat some longtime veterans of the sport in 2013, winning decisions over Jeff Monson, Kazuyuki Fujita and Pedro Rizzo. His lone stoppage win was over Clayton Jones via TKO.
Xavier Foupa-Pokam- Professor X fought in Russia, India and England in 2013, finishing all his opponents. He started the year by TKO'ing Dan Edwards, then TKO'd John Troyer and Gennadiy Kovalev before submitting Aleksey Shapovalov. Despite his opponents not having name recognition, they all have 9+ wins with a combined record of 43-22.
Rob Font- Figthing exclusively in the CES promotion, Font began the year with a decision over Saul Almeida (13-5), then beat Lucas Cruz (6-2), Chris Foster (7-3) and Matt DiMarcantonio. He fights Ahsan Abdullah next.
Ray Borg- The 20 year old Fit NHB prospect pushed his record to 5-0 in 2013, with 2 subs and a TKO win at 125 pounds. The grappler's two best wins were a decision over longtime KOTC fighter Angel Sanchez (12-5) and a RNC of Jeimeson Saudino (7-2).
Bethe Correia- Training with the Pitbull Freire brothers, Correia won an insanely close split decision in her UFC debut against Julie Kedzie to close out 2013.
Faith Van Duin- The New Zealander turned pro in 2013, going 4-0,winning the Storm MMA women's belt by latching on a 4th round triangle against Kate da Silva (5-1).
Holly Holm- The former pro boxer stayed active in 2013, fighting in Bellator, Legacy FC and FP - Havoc, landing 2 head kick KO's.
Brett Johns- The Welsh fighter ended the year by defeating Jordan Desborough for the Cage Warriors 135 pound belt, pushing his record to 8-0.
Stephan Puetz- The 26 year old 6'6" German prospect at 205 pounds fought in four different promotions in Germany in 2013, earing 2 TKO's and 2 decision wins.
Cody Gibson- The Californian stayed close to home in 2014, picking up a TKO win in the Diaz brothers War MMA.
3-0
Demetrious Johnson- Mighty Mouse had three successful title defenses in 2013, keeping the flyweight belt in tow for the duration of its existence in the UFC. He started the year with a decision win over John Dodson, then began to show his finishing ability. He subbed John Moraga with an armbar at UFC on Fox 8 then brutally KO'd Joe Benavidez at UFC on Fox 9. With 2 wins over Benavidez and John Dodson sidelined with a knee injury, the title picture is a little murky at 125. Winners from the early 2014 bouts of Bagautinov/Lineker, Pickett/McCall and Makovsky/Sampo all could be in the mix.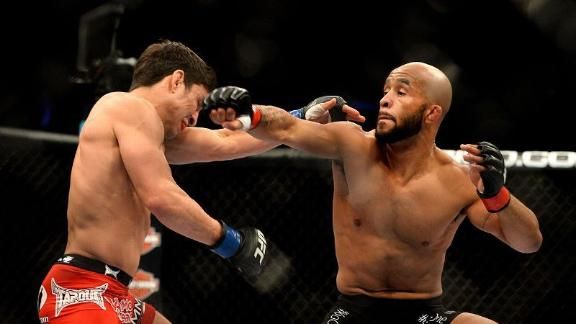 (Johnson v. Benavidez at UFC on Fox 9)
Vitor Belfort- The Phenom made a huge statement in 2013, scoring 3 devasting KO wins in the main event. The 36 year old began the year with a head kick and punches KO of Michael Bisping. He then landed an amazing spinning heel kick KO of Luke Rockhold. In his last fight he KO'd MMA legend Dan Henderson with a head kick. Expect Belfort to lobby for a shot at the winner of Weidman v. Silva.
Glover Texiera- The BJJ blackbelt worked his way to a title shot against Jon Jones by winning a decision over Rampage Jackson, submitted James Te Huna, then TKO'd Ryan Bader. With 20 wins in a row, including 5 wins in the UFC, Texiera will have his hands full in his next bout.
Robbie Lawler- Looking rejuvenated and sharp at 170 pounds, Lawler made a huge statement in 2013. Following a disappointing loss at 185 pounds to Lorenz Larkin to end his Strikeforce career in 2012, Lawler returned to the UFC and TKO'd Josh Koscheck at UFC 157 winning the KO of the night bonus. He next KO'd Bobby Voelker with a head kick and punches at UFC on Fox 8. At UFC 167, he defeated Rory MacDonald to punch his ticket to a title shot against Johnny Hendricks at UFC 171.
Travis Browne- Hapa bounced back from his loss to Bigfoot Silva in a big way during 2013. He started the year by crushing Gabriel Gonzaga with elbows off a failed takedown for a TKO. He then KO'd Alistair Overeem with a front kick and punches, before using the same elbows in the Gonzaga fight for a TKO of Josh Barnett. Browne will fight Fabricio Werdum for the shot against Cain Velasquez and the title.
Ronaldo Souza- Jacare made a big splash in 2013 as he moved from Strikeforce to the UFC finishing off all 3 opponents in 2013. In his final Strikeforce bout, he submitted Ed Herman with a kimura. In his UFC debut, he defeated Chris Camozzi with an arm triangle choke. In his next bout he crushed Yushin Okami via TKO in the first round. The former ADCC and Strikeforce champ will next fight Francis Carmont for a step closer to a title shot at 185.
Chad Mendes- Money Mendes popped some tags in 2013, starting the year by KO'ing Darren Elkins and Clay Guida. Inching closer to a potential rematch with Jose Aldo, Mendes closed out 2013 by winning a decision over Nik Lentz. Cub Swanson and Chad Mendes would seem like the next challengers for the title.
Daniel Cormier- The Olympic wrestler continued his dominance in the heavyweight division by TKO'ing Dion Staring, before moving to the UFC and winning decisions over Frank Mir and Roy Nelson. Cormier is rumored to be moving to the LHW and possibly taking on Rashad Evans or Phil Davis before getting a title shot.
Khabib Nurmagomedov- The Russian rose up the LW ranks in 2013, rattling off his 3 quality wins in the UFC and pushing his overall record to 21-0. The Eagle TKO'd Thiago Tavares in the 1st round at UFC on FX 7, then won decisions over Abel Trujillo and Pat Healy. Expect the combat Sambo and Judo stylist to face top competition in 2013.
Alexander Shlemenko- "Storm" rode a tidal wave of momentum in 2013, winning the vacant Bellator MW belt with a 2nd round KO of Maiquel Falcão to start the year. After a sluggish 5 round title defense of the title against Brett Cooper, he destroyed Doug Marshall with a body shot KO at BFC 109. Look for Shlemenko to defend his title against former DIII wrestler Brennan Ward (9-1) early in 2014.
Alexis Davis- The Strikeforce veteran had a smooth transition to Invicta and then the UFC in 2013, beginning the year with a RNC of Shayna Baszler in Invicta, before winning decisions over Rosi Sexton and Liz Carmouche in the UFC. She next fights Jessica Eye at UFC 170.
Shinya Aoki- Re-upping with One FC in 2013, Aoki moved from 155 to 145. Aoki started the year with a rear naked choke of Japanese veteran Kotetsu Boku, won a decision over Cody Stevens, then won a technical submission over Toshikatsu Harada.
Vitaly Minakov- The Bellator HW champion pushed his undefeated record to 13-0 with 3 quality TKO wins. He first KO'd Ron Sparks in the first round before TKO'ing Ryan Martinez in the second round, then took the belt with a first round TKO of Alexander Volkov in November. Hopefully Bellator can get a worthy HW to fight Minakov sooner rather than later.
Edson Barbosa- The dynamic muay thai fighter came back in a big way after finishing 2012 with his 1st career loss against Jamie Varner. He began the year with Lucas Martin sub due to punches, TKO'd Rafaello Oliveira with leg kicks, then finished the year with a split decision win over Danny Castillo which won him a fight of the night bonus.
Tom Niinimaki- The Finnish fighter pushed his six year undefeated streak to 12 straight by going 3-0 in 2013, including his successful UFC debut. "Stoneface" took out three quality opponents with decision wins over Rani Yahya and Chase Beebe while submitting UFC veteran Walel Watson.
Douglas Lima- The 170 pound Bellator tourney champ had a great 2013, pushing his record to 25-5 with 3 KO wins. Lima started the year using leg kicks to TKO Michail Tsarev, before KO'ing Bryan Baker with a punch, then Ben Saunders with a head kick KO to claim the tourney championship.
Justin Gaethje- The top prospect in the WSOF, Gaethje's striking skills continued to improve in 2013 as he pushed his record to 10-0. He first TKO'd JZ Cavalcante in the first round, then TKO'd Brian Cobb with leg kicks before a dominant KO win over Dan Lauzon. He next fights Richard Patishnock for the WSOF LW belt.
Zach Makovsky- Fun Size made a huge statement in his late notice UFC debut, taking all three rounds in a decision win over Scott Jorgensen. Makovsky also took decisions over Claudio Ledesma, and Matt Manzanares, capturing the RFA belt. The former 135 pound Bellator champ has re-invented himself at 125, and fights former CFA champ Josh Sampo next at UFC 170.
Josh Sampo- "The Gremlin" had a break through year in 2013, earning and defending the CFA 125 pound belt before having a successful UFC debut. He started the year with a 5th round submission of Bellator/WSOF vet Alex Villa (13-4), won a 5 round decision over Sam Thao (7-2) then subbed Ryan Benoit at the TUF 18 Finale.
Brandon Thatch- The lanky 170 pounder showed exceptional striking in 2013, capped by KO wins in his first two UFC appearances. After submitting Mike Rhodes at RFA 7, Thatch entered the UFC and TKO'd Justin Edwards winning the KO of the Night bonus. In his next bout, he crushed Paulo Thiago with a devastating knee to the body. After receiving a lengthy medical suspension after UFC Fight Night 32 for ankle and shoulder injuries, we may not see him again until mid 2014.
Marlon Moraes- Following a huge upset win over Miguel Torres to close out 2012, Moraes had an excellent run in WSOF in 2013. He KO'd Tyson Nam with a headkick at WSOF 2, won a decision over Brandon Hempleman, then KO'd Carson Beebe with punches in just 32 seconds.
Jesse Taylor- The wrestler controlled the action in the cage in 2013, picking up 3 quality wins to push his record to 27-9 and punch a ticket to the WSOF 185 pound title finale. He began by winning a decision over TUF 3 champ Kendall Grove, submitted John Phillips with a guillotine then dominated MFC champ Elvis Mutapcic.
Georgi Karakhanyan- The "Insane" fighter had a breakthrough 2013, taking the inaugural WSOF FW belt by submitting previously undefeated Lance Palmer with a 3rd round guillotine choke. His other two victories were against UFC veterans Din Thomas and Waylon Lowe.
Magomedrasul "Frodo" Khasbulaev- The Russian hobbit had a furious 2013 taking the Season 8 Bellator FW tournament championship. He started with an arm triangle finish over Fabricio Guerreiro at BFC 88, then TKO'd Marlon Sandro at BFC 92 before winning a decision over Mike Richman. Expect Frodo to challenge Daniel Strauss for the title in the near future.
Dennis Bermudez- The TUF 14 runner-up eeked out an undefeated 2013 by a hair, winning split decisions over Matt Grice and Max Holloway before winning a unanimous decision over Steven Siler. The Grice v. Bermudez fight was an absolute barnburner, check it out if you missed it. Dennis next fights Jimmy Hettes at UFC 171.
Ali Bagautinov- The 125 pound "Puncher King" kept punching in 2013, winning TKO'ing Seiji Ozuka with punches before making his UFC debut. At UFN 28, he TKO'd Marcos Pancini (20-6) then won a decision against Tim Elliot at UFC 167. Ali will next fight John Lineker at UFC 169. Expect both to swing heavy leather.
Justin Scoggins- The 21 year old flyweight had his best year as a pro, TKO'ing Chris Cain and KO'ing Len Cook, before moving to the UFC and TKO'ing Richie Vaculik in the 1st round at UFN 33.
Takeya Mizugaki- The Japanese striker notched 3 decisions in 2013, winning splits over Bryan Caraway and Eric Perez before a unanimous decision over Nam Phan.
Katsunori Kikuno- The Dream/Deep veteran punched his ticket to the UFC with a successful 2013. The Kyokushin Karate and Judo black belt started the year with an odd palm strike KO win over Takafumi Ito, then won twice in Deep, KO'ing Jutaro Nakao and submitting Yong Jae Lee. Kikuno defeated Quinn Mulhern at UFN 34 to start off his 2014 with a bang.
Alp Ozkilic- The Turkish fighter had a breakthrough 2013, TKO'ing Josh Robinson and UFC veteran Antonio Banuelos, before making his UFC debut and picking up a split decision over Darren Uyenoyama. Alp fights the undefeated Louis Smolka at UFN 35 next.
Dustin Ortiz- After taking decisions over Aaron Ely and Mike French, the Roufusport fighter made a successful 125 pound debut in the UFC against Jose Maria Tome with a 3rd round TKO. Ortiz will next get his biggest fight to date at UFN 35 against John Moraga.
Tecia Torres- The 115 pounder will next compete in TUF 20 for the women's title, after taking decisions over Felice Herrig, Rose Namajunas and Paige Van Zandt in Invicta FC in 2013.
Kyoji Horiguchi- The 23 year old Japanese prospect made a successful debut in the UFC with a TKO of Dustin Pague at UFC 166. Prior to that, he defended his BW Vale Tudo Japan belt with a TKO of Shintaro Ishiwatari, and won via submission over Hiromasa Ogikubo. He next fights Chris Cariaso at UFC 169, presumably at 125 pounds.
Vagner Rocha- The UFC veteran took a step in the right direction in 2013, winning 3 times for the Florida based Fight Time promotion. He started by winning a decision over Kamrin Naville, subbed Bellator veteran JP Reese, then had a triangle choke win over Randy Barroso.
Damian Grabowski- The Polish Pitbull pushed his record to 19-1, his lone loss to Cole Konrad in Bellator in 2010. The HW won a decision over Stav Economou, then TKO'd Tadas Rimkevicius before submitting former M-1 champ Kenny Garner with an arm triangle choke.
LC Davis- The WEC and Sengoku veteran had a great 2013, going 3-0 in 3 different promotions to push his record to 20-5 while moving to 135 pounds. The athletic Davis had a TKO over Jacob Akin, followed by a TKO of Dominic Davis before winning a decision over James Saville.
Vyacheslav Vasilevsky- The Russian MW and one time Bellator fighter pushed his overall record to 23-2 in 2013, defeating Charles Andrade via decision, then TKO'ing UFC vet Trevor Prangley and Vitor Nobrega.
Jesse Juarez- The 7 year veteran fighting out of Antonio McKee's Bodyshop Fitness had arguably his best year as a professional, notching 2 wins in Bellator. He started the year with a split decision over Jordan Smith (18-5), TKO'd Daniel McWilliams, then submitted Fight Master quarter finalist Joe Williams with a 1st round guillotine.
Cody East- The 6'3" Jackson's MMA HW had a strong 2013, capturing the King of Cage title with a decision win over Nick Rossborough in June despite breaking his fibula in the fight. East added first round finishes of Strikeforce vet Lolohea Mahe and Esteves Jones to cap off 2013.
George Sullivan- The CFFC 170 pound champion had 3 straight 2nd round TKO wins via punches in 2013. He started by TKO'ing TUF vet Julian Lane, then Brandon Becker, before finishing out the year with a TKO of Jesus Martinez.
Cael Uno- The longtime veteran had a bounce back year in 2013, notching 3 submissions in Vale Tudo Japan and Shooto. After a RNC over Kyu Hwa Kim, Uno submitted Team Alpha Male's Anthony Avila with an RNC. He then submitted Daniel Romero with an inverted triangle choke.
Scott Askham- The English prospect pushed his record to 11-0 in 2013, capturing the BAMMA MW belt in his final bout of the year. He started by submitting Harry McLeman before winning decisions over Jack Marshman and Jorge Luis Bezerra.
Alex Garcia- The Dominican Nightmare capped off 2013 with a win in his UFC debut, KO'ing Ben Wall via punches at UFN 33. His other wins were against then undefeated fighters, winning a decision over Ryan Dickson, then 6-0, and a rear naked choke of Chris Heatherly, then 5-0.
Derek Anderson- The Team Xplode prospect had a huge 2013 pushing his overall record to 10-0, capped off by winning a decision over Patricky Freire in his Bellator debut. Anderson also had a TKO win over Craig Flynn and an armbar win over Ray Carter.
Steve Mocco- The Olympic wrestler pushed his overall record to 4-0 by recording a north/south submission over Rashad Brooks and a submission over Alonzo Roane. His decision win over Bellator/IFL vet Lew Polley in August at RFA 9 was the best victory of his young MMA career.
Anthony Hamilton- The 265 pound Hamilton had a great 2013 becoming the HW champ of the MFC organization. He started by submitting Will Courchaine with an armbar, then TKO'd Matt Kovacs before capping it with a brutal head kick KO of Smealinho Rama, ending the hype around the formerly undefeated HW.
Sean Strickland- The King of the Cage 185 pound champion pushed his record to 13-0 by KO'ing Bill Albrecht, taking a decision over Yusuke Sakashita then getting a TKO win over Matt Lagler.
Liam McGeary- The 6'6" Brit made a successful Bellator debut in 2013, winning all three of his bouts in the first round. He started with a TKO of Anton Talamantes, then KO'd Beau Tribolet before ending the year by submitting Mojtaba Najim Wali. Look for McGeary to be a tournament competitor next year.
Steve Cleve- Cleve ended the year with a TKO of Isaac DeJesus (10-6) in Bellator and added a submission of Rocky Johnson (20-12) and TKO of Gilbert Jimenez in 2013.
Alexander Yakovlev- The longtime M-1 veteran notched three decision wins in 2013, including the biggest win of his career over UFC veteran Paul Daley. His other wins were over Murad Abdulaev and Reinaldo da Silva.
Andy Enz- Despite losing a decision in an exhibition bout to Uriah Hall on TUF 17, and suffering a broken arm in the process, Enz had a solid 2013 fighting exclusively in his native Alaska. Enz pushed his overall record to 7-0 by submitting Thomas Ide with punches, then submitted Chris Cuff and Mike Fannon.
Jim Alers- The 145 pound prospect fought exclusively for the Cage Warriors promotion in 2013, defending his FW title. He started the year with a submission of Joni Salovaara, then won a decision over Martin Svensson before submitting longtime Scottish fighter Graham Turner.
Michinori Tanaka- The undefeated 135 pound Japanese prospect fought exclusively with the PXC promotion in 2013, defeating Caleb Vallotton via triangle, then Crisanto Pitpitunge, and Kyle Aguon via 5 round decisions to retain his PXC BW belt. With a 2012 win over recent UFC addition Russell Doane (12-3, 1-0 UFC), Tanaka (9-0) should get a UFC invite soon.
Hernani Perpetuo- The Brazilian prospect notched some quality wins in 2013, defeating Andre Santos (36-9) via decision, Sergio Souza (10-5) via TKO and Tommy Depret (10-5) via decision.
Konstantin Erokhin- The Russian HW fought exclusively in Moscow in 2013, continuing to gain momentum after losing his pro debut last year. With 3 first round finishes, Erokhin TKO'd Nikolai Danilov, then TKO'd Evgeny Erokhin before getting a quality KO win over M-1 veteran Denis Komkin.
Albert Tumenov- The Russian 170 pound prospect pushed his overall record to 12-1 with 3 first round TKO wins in 2013, stopping Viskhan Amirkhanov and Roman Mironenko with punches before TKO'ing Yasubey Enomoto via head kick and punches.
Ivan Buchinger- "Buki" had a solid 2013, fighting exclusively for Cage Warriors. He started the year by winning a decision over Jason Ball, submitted Jamal Magomedov via triangle armbar then subbed Mick Sinclair with a scarf hold. The wins earned him a LW title shot against Steven Ray at CWFC 63.
Edimilson "Kevin" Souza- The Brazilian FW made a successful UFC debut at UFN 28 with a split decision win over Felipe Arantes. His other wins were TKO over Joao Antonio de Oliveira Gois and Fabiano Nogueira.
Louis Smolka- The 5'9" 125 pound fighter will next make his UFC debut against Alp Ozkilic at UFN 35. He earned his shot by dominating in the PXC promotion, with rear naked choke wins of Alvin Cacdac and Jessie Rafols before getting a TKO of Ale Cali.
James Brum- The English prospect pushed his record to 14-2 in 2013, earning a Cage Warriors title shot against Brett Johns. Fighting all 3 times in Cage Warriors, he beat Olivier Pastor, Ruslan Abiltarov (15-4) and Marat Pekov (10-5).
Mizuki Inoue- The Japanese 115 pound women's prospect began the year with an armbar win over Seo Ye Jung, then won decisions over Bec Hyatt and Emi Fujino.
Rob Lisita- The Phuket Top Team member ended the year with a bulldog choke win of Takeshi Inoue (21-9) and also had a TKO of Rodolfo Marques Diniz (15-3) in 2013.
Yuta Nezu- The 6 year veteran of Shooto and Vale Tudo Japan had his best year as a pro, winning decisions over UFC/Pancrase vet Motonobu Tezuka (20-7) and Dream veteranAkiyo Nishiura (12-8).
Jozette Cotton- Pusing her record to 4-0, "The #1 Headbusta" had 2 TKO's to go along with a decision win over Jessica Halverson.
Seo Hee Ham- The women's 105 pound fighter began the year with an armbar win over Ryo Mizunami, then won decisions over Naho Sugiyama (9-3) and Sadae Numata (5-2).
Alexandre Passidomo- The 125 pound prospect pushed his record to 14-1 in 2013, earning a victory over Lincoln de Sa (11-4) in Shooto Brazil to close out the year.
Tatsumitsu Wada- Earning 3 wins in Deep, the 125 pound propsect ended his year with his best win, a decision over Haruo Ochi.
Tina Lahdemaki- The women's 125 pound grappler pushed her record to 5-0 with 2 subs in 2013, including a triangle over Karla Benitez (11-6).
Alexa Grasso- The 125 pound prospect out of Mexico won the XK tournament by defeating Alejandra Alvarez and Karina Rodriguez in the same night in 2013.
Szymon Bajor- The Polish HW notched 3 stoppage wins beginning with a armbar of Rafal Niedzialkowski, then a kimura over Blazej Wojcik before a TKO of Chaban Ka.
Nina Ansaroff- Winning her 5th straight overall in 2013, the women's 125 pound prospect had 3 T(KO)'s, including a KO of Munah Holland in her Invicta FC debut.
Timo-Juhani Hirvikangas- The 135 pounder fought all 3 times in the Finnish "Cage" promotion, submitting Evgeniy Odnorog (11-2), Artemij Sitenkov and Niko Gjoka.