Alistair Overeem will make his return to the United States this weekend when he takes on Brett Rogers at Strikeforce - Heavy Artillery in St. Louis. Overeem has been very busy lately, taking multiple oversees MMA fights and K-1 bouts.
The last time Overeem was fighting in the US, he was beating up Paul Buentello to defend his Strikeforce title. Overeem's only other United States fight was decision victory over Vitor Belfort. Overeem's other career wins have come over Igor Vovchanchyn, Mark Hunt, Roman Zentsov and Sergei Kharitonov.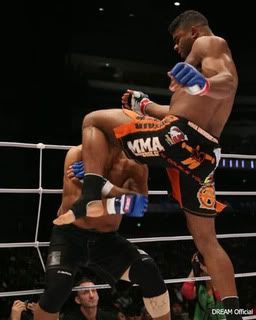 (Overeem KO of Fujita)
In other action former UFC heavyweight champ Andrei Arlovski will be fighting former Elite XC champ Junior "Bigfoot" Silva. Arlovski desparetly needs a win since his two straight KO losses to Fedor and Brett Rogers.
Here is a look at other fights that will be shown live on Showtime:
MAIN CARD
Alistair Overeem vs. Brett Rogers
Andrei Arlovski vs. Antonio Silva
Ronaldo "Jacare" Souza vs. Joey Villasenor
Roger Gracie vs. Kevin Randleman
Antwain Britt vs. Rafael "Feijao" Cavalcante
UNDERCARD (un-aired)
Justin DeMoney vs. Jesse Finney
Lyle Beerbohm vs. Vitor Ribeiro
Lee Brousseau vs. Fransisco France
Mike Chandler vs. Sal Woods
Tom Aaron vs. Erik Steenberg
Matt Ricehouse vs. Greg Wilson
Darryl Cobb vs. Booker DeRousse
(Back to MMA Rumors)