UFC Hall of Fame - Who's Next by MMA Blaster
The UFC is the only mixed martial arts organization with a Hall of Fame. As of now, the members of the hall include Royce Gracie, Ken Shamrock, Dan Severn, Randy Couture, Chuck Liddell, Mark Coleman and Matt Hughes. The late, Charles "Mask" Lewis was inducted as a contributor to the sport.
This past weekend, 9X UFC champ Matt Hughes (44-7, 17-5 UFC) was the latest MMA legend inducted to the UFC Hall of Fame. Hughes, known for his wrestling, submissions and ground game, is the most dominant 170 pounder in the history of the UFC. Hughes holds victories over Frank Trigg, Georges St. Pierre, Carlos Newton, Royce Gracie, Renzo Gracie, Sean Sherk, Hayato Sakurai and split with BJ Penn.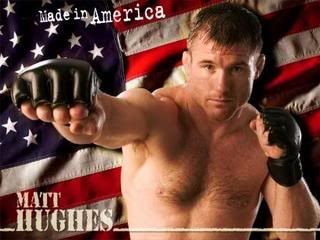 My hope would be that the UFC would look at inducting Don Frye and Pat Miletich into the Hall of Fame next. Each is long overdue, especially considering what they have accomplished inside and outside the UFC. Bad blood was definitely created when each joined the IFL as coaches, but I believe that has passed.
Don Frye (20-7, 9-1 UFC)(UFC 8, UU96 belts)-
Plowed through the competition in UFC 8 to win the belt. Won the UU96 and UFC 8 title's in a epic fashion defeating Tank Abbott and Gary Goodridge, respectively. Only reason to have him out would be because he still fights. (However, all other UFC Hall members still fight)
Pat Miletich (29-7, 8-2 UFC)(UFC 16 Lightweight tourney winner, WW belt holder)-
Won two bouts to take UFC 16. Won a slim decision over Mikey Burnett to take the WW belt. Defended 4 times before losing to Carlos Newton. Other wins over John Alessio and Shonie Carter. Bigger impact may be in the fighters he has trained over the years.
Guaranteed inducted upon retirement:
1. Georges St. Pierre (20-2, 14-2 UFC)(WW belt holder)-
Currently, Georges has looked unbeatable during his 7 fight win that has spanned two and a half years. GSP has TKO's over BJ Penn and Matt Serra, while submitting Matt Hughes and taking decisions over Dan Hardy, Thiago Alves, Jon Fitch and Josh Koscheck. Other victories over Sean Sherk, Josh Koscheck, Jason "Mayhem" Miller, Frank Trigg, Jay Hieron and Karo Parisyan.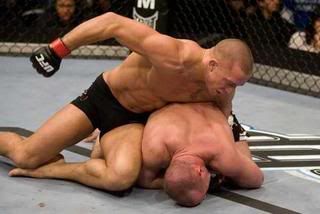 2.
Anderson Silva (26-4, 11-0 UFC)(MW belt holder)-
Has crushed all comers while rarely getting touched in his matches. Worked over James Irvin and Forrest Griffin in the first round at 205. Won the belt in his second UFC fight over Rich Franklin and has defended seven more times. Victories over Dan Henderson, Rich Franklin 2X, Nate Marquardt, Travis Lutter, Thales Leites, Demian Maia and Chris Leben.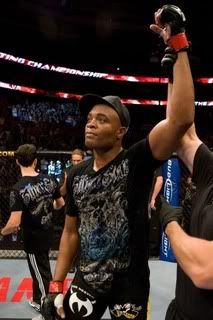 3. Tito Ortiz (15-7-1, 14-7-1 UFC) (LHW belt holder)-
Kept the UFC in the limelight during the dark ages, winning the LHW belt after Frank Shamrock left the UFC. Defended the belt five straight times. Victories over Vitor Belfort, Forrest Griffin, 3X Ken Shamrock, Jerry Bohlander, Evan Tanner, Yuki Kondo, Vladimir Matyushenko, Wanderlei Silva and a split with Guy Mezger.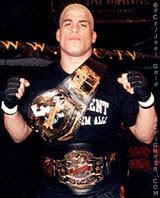 4. BJ Penn (15-6-1, 11-5-1 UFC)(LW and WW belt holder)-
Won the LW belt over Joe Stevenson and then defended against Sean Sherk, Kenny Florian and Diego Sanchez as the most dominating 155 in UFC history. Won WW belt from Matt Hughes in a great fight. Victories over Din Thomas, Matt Serra, Caol Uno and split with Jens Pulver. Two of his losses are to GSP at 170. Recent decision loss to Frank Edgar.
5. Rich Franklin (25-5, 12-4 UFC) (MW belt holder)-
Won MW belt from Evan Tanner and defended twice. Victories over Yushin Okami, Jason MacDonald, Ken Shamrock and Evan Tanner 2X. Recent wins over Travis Lutter and Matt Hamill with a close decision loss to Dan Henderson. Was crunched twice by Anderson Silva at 185. Defeated Wanderlei Silva at a 195 pound catch-weight then was TKO'd by Vitor Belfort.
6. Andrei Arlovski (15-8, 10-4 UFC)(HW belt holder)-
Won HW belt from Tim Sylvia with an achilles lock. Defended twice against Justin Eilers and a 15 second KO of Paul Buentello. Other victories over Vladimir Matyushenko, Marcio Cruz, Ian Freeman, Fabricio Werdum and Jake O'Brien. His contract expired after the O'Brien fight and the UFC shunned him to the undercard. After beating Roy Nelson in Affliction, he got KO'd by Fedor and Rogers, then dropped a decision to Bigfoot Silva.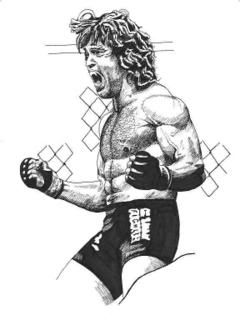 7. Evan Tanner (32-8, 11-6 UFC) (MW belt holder)-
Wins over Robbie Lawler, Homer Moore, Phil Baroni 2X and David Terrell (MW belt). Unfortunately, Evan Tanner has passed away. With 17 total fights in the UFC and a title, I think Tanner deserves a spot. If Tank Abbott gets in with his 8 wins out of 18 in the UFC, Tanner should with his 11 wins in 17 fights in the UFC.
Former champs who are close:
1.
Frank Mir (13-5, 11-5 UFC)(HW belt holder)
- Biggest win by far was the arm break of Tim Sylvia for the HW title. Victories over Brock Lesnar, Antonio Noguira, Pete Williams, Tank Abbott, Antoni Hardonk, Cheick Kongo and Roberto Traven.
2.
Rashad Evans (14-1-1, 9-1-1 UFC, LHW belt holder)
- Won the LHW belt over Forrest Griffin, but then was KO'd by Lyoto Machida, but since rebounded with a win over Rampage Jackson. Defeated Sean Salmon with a nasty high kick. KO'd Chuck Liddell and Jason Lambert. Decision victories over Micheal Bisping, Stephan Bonnar and Brad Imes for the TUF 2 HW belt.
3.
Forrest Griffin (17-6, 8-4 UFC, LHW belt holder)-
Two back to back victories over the number one light heavyweights in Shogun Rua and Rampage Jackson. Won of the sports biggest victories over Stephen Bonnar in the 1st Ultimate Fighter. Needs some wins over bigger names and in more convincing fashion to get over the hump. Lost the LHW belt to Rashad Evans, then crushed by Anderson Silva. He rebounded with a victory over Tito Ortiz.
4.
Tim Sylvia (26-6, 9-4 UFC) (HW belt holder)-
Won HW belt over Ricco Rodriguez at UFC 41, reclaimed at UFC 59 over Arlovski defending twice. Other victories include Brandon Vera, Jeff Monson, Gan McGee and Assuerio Silva. He has gone 1-2 since leaving the UFC, losing in 36 seconds to Fedor Emelianenko, then in 9 seconds to Ray Mercer.
Too bad -
Frank Shamrock (23-10, 5-0 UFC)(LHW, then called MW belt)
- Entered the UFC winning the MW belt (now LHW) over Olympic Gold medalist Kevin Jackson (4-2) with an arm bar in 16 seconds. He then slammed undefeated Igor Zinoviev (4-1) into retirement in 22 seconds in his first title defense. He beat Jeremy Horn and John Lober in his next two defenses. Shamrock defended the belt once more in one of the best fights in MMA history against Tito Ortiz (15-5).
*The UFC would have to let him have another fight, I don't see it happening.
Dana White said he would put in:
Tank Abbott (11-14, 8-10 UFC)-
His selection would be more to do with popularity and helping build the UFC in the early days. His best performances were at UFC 6 and UU96. At UFC 6, Tank delivered a highlight real KO of John Matua 20 seconds in, rising up the crowd. In his second fight, Tank crushed the "Polar Bear" Paul Varelens in the first reving the crowd into a fury. Oleg Taktarov then beat Tank in the final. In UU96 he crushed Cal Worsham in an intense flurry in the first round then KO'd Steve Nelmark at 1:03 in his second fight. He almost beat Don Frye in the final after a big punch to the face, but lost. Other notable wins were against Hugo Duarte and Steve Jennum.
**All text copyright of MMA Blaster**