UFC Hall of Fame - Who's Next by MMA Blaster
The UFC is the only mixed martial arts organization with a Hall of Fame. As of now, the members of the hall include Royce Gracie, Ken Shamrock, Dan Severn, Randy Couture, Chuck Liddell, Mark Coleman, Matt Hughes, Pat Miletich, BJ Penn, Forrest Griffin, Stephen Bonnar and Tito Ortiz. The late Charles "Mask" Lewis and Jeff Blatnick have been inducted as contributors to the sport. The fight Matt Hughes v. Frank Trigg 2 is reckognized as well.
Bas Rutten (28-4, 2-0 UFC) will next be inducted as a pioneer of the sport. Rutten was a beast in Pancrase and won the UFC heavyweight title and defended once. My hope would be that the UFC would look at inducting Don Frye, Kazushi Sakuraba and Frank Shamrock as the next group of pioneers. Georges St. Pierre is an obvious choice to come next.
Don Frye (20-9, 9-1 UFC)(UFC 8, UU96 belts)-
Won the UU96 and UFC 8 title's in a epic fashion defeating Tank Abbott and Gary Goodridge, respectively. One of the most epic brawls in MMA history at Pride 21 against Takayama following a split decision win over Ken Shamrock at Pride 19. One of the first with devastating boxing and a solid wrestling base.
Guaranteed inducted upon retirement:
1. Georges St. Pierre (25-2, 19-2 UFC)(WW belt holder)-
GSP has TKO's over BJ Penn and Matt Serra, while submitting Matt Hughes and taking decisions over Carlos Condit, Jake Shields, Nick Diaz, Jon Fitch and Josh Koscheck.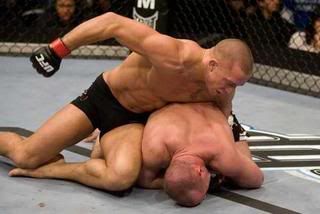 2.
Anderson Silva (33-6, 16-2 UFC)(MW belt holder)-
A recent failed drug test for steroids has put a major black eye over the legacy of Silva. Last three bouts have been two devastating losses to Chris Wiedman and having his win over Nick Diaz overturned. TKO's over Rich Franklin, Forrest Griffin, Chael Sonnen and Nate Marquardt. Submission wins over Dan Henderson and Sonnen.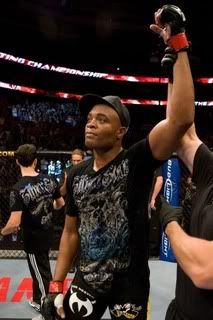 3. Rich Franklin (25-5, 12-4 UFC) (MW belt holder)- Won MW belt from Evan Tanner and defended twice. Victories over Yushin Okami, Jason MacDonald, Ken Shamrock and Evan Tanner 2X. Recent wins over Travis Lutter and Matt Hamill with a close decision loss to Dan Henderson. Was crunched twice by Anderson Silva at 185. Defeated Wanderlei Silva at a 195 pound catch-weight then was TKO'd by Vitor Belfort.


4. Andrei Arlovski (25-10, 14-4 UFC)(HW belt holder)-
Won HW belt from Tim Sylvia with an achilles lock. Defended twice against Justin Eilers and a 15 second KO of Paul Buentello. Other victories over Vladimir Matyushenko, Marcio Cruz, Ian Freeman, Fabricio Werdum and Jake O'Brien. His contract expired after the O'Brien fight and the UFC shunned him to the undercard. After beating Roy Nelson in Affliction, he got KO'd by Fedor and Rogers, then dropped a decision to Bigfoot Silva. But Arlovski has risen from the ashes, notching big victories over Brendan Schaub, Bigfoot Silva, Travis Browne and Frank Mir.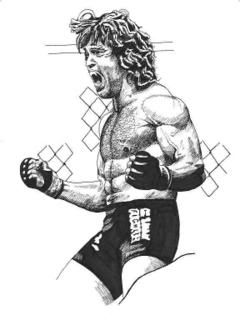 5. Evan Tanner (32-8, 11-6 UFC) (MW belt holder)-
Wins over Robbie Lawler, Homer Moore, Phil Baroni 2X and David Terrell (MW belt). Unfortunately, Evan Tanner has passed away. With 17 total fights in the UFC and a title, I think Tanner deserves a spot. If Tank Abbott gets in with his 8 wins out of 18 in the UFC, Tanner should with his 11 wins in 17 fights in the UFC.
6.
Frank Mir (18-10, 16-10 UFC)(HW belt holder)
- Biggest win by far was the arm break of Tim Sylvia for the HW title. Victories over Brock Lesnar, Antonio Noguira, Pete Williams, Tank Abbott, Antoni Hardonk, Cheick Kongo and Roberto Traven. Has some big losses and recent big KO wins over Todd Duffee and Bigfoot Silva.
7.
Rashad Evans (19-3-1, 14-3-1 UFC, LHW belt holder)
- Won the LHW belt over Forrest Griffin, but then was KO'd by Lyoto Machida, but rebounded with a win over Rampage Jackson. Defeated Sean Salmon with a nasty high kick. KO'd Chuck Liddell, Chael Sonnen and Jason Lambert. Decision victories over Michael Bisping, Stephan Bonnar and Brad Imes for the TUF 2 HW belt.
Pioneer-
Frank Shamrock (23-10, 5-0 UFC)(LHW, then called MW belt)
- Entered the UFC winning the MW belt (now LHW) over Olympic Gold medalist Kevin Jackson (4-2) with an arm bar in 16 seconds. He then slammed undefeated Igor Zinoviev (4-1) into retirement in 22 seconds in his first title defense. He beat Jeremy Horn and John Lober in his next two defenses. Shamrock defended the belt once more in one of the best fights in MMA history against Tito Ortiz (15-5).
*The UFC would have to let him have another fight, I don't see it happening.
Dana White said he would put in:
Tank Abbott (11-14, 8-10 UFC)-
His selection would be more to do with popularity and helping build the UFC in the early days. His best performances were at UFC 6 and UU96. At UFC 6, Tank delivered a highlight real KO of John Matua 20 seconds in, rising up the crowd. In his second fight, Tank crushed the "Polar Bear" Paul Varelens in the first reving the crowd into a fury. Oleg Taktarov then beat Tank in the final. In UU96 he crushed Cal Worsham in an intense flurry in the first round then KO'd Steve Nelmark at 1:03 in his second fight. He almost beat Don Frye in the final after a big punch to the face, but lost. Other notable wins were against Hugo Duarte and Steve Jennum.
**All text copyright of MMA Blaster**