Bellator Season 6 kicked off on March 9th at the Horseshoe Casino in Hammond, Indiana. The star studded show featured Pat Curran taking the featherweight title from Joe Warren with an epic KO victory.
Tournaments are being held in the 185, 170, 155, 145 and 135 pound men's divisions this season. Each division will also hold title fights for previous tournament winners, except in the 155 pound division, which saw Michael Chandler defeat Eddie Alvarez in an epic battle at Bellator 58.
Middleweight (185)
The middleweight division will find defending champion Hector Lombard (31-2-1) fighting season five champ Alexander Shlemenko (44-7) in a rematch of their Bellator 34 match-up. Lombard, a judo blackbelt, and powerful striker, is on a 24 fight win streak. Shlemenko is a dynamic kickboxer who won the Bellator season 2 and 5 tournaments.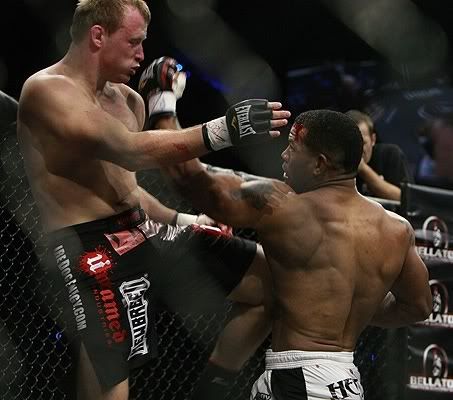 (Pic from Lombard v. Shlemenko I)
Season 6 MW Quarter-Finals begin at BFC 61 on March 16:
Brian Rogers (8-3) v Vitor Vianna (12-2-1)
Giva Santana (17-1) v Bruno Santos (12-0)
Victor O'Donnell (11-3) v Vyacheslav Vasilevsky (15-1)
Maiquel Falcão (28-4 1NC) v Norman Paraisy (10-1-1)
Welterweight (170)
The welterweight division will see champion Ben Askren (9-0) fighting season 5 tournament champ Douglas Lima (20-4) at Bellator 64. Askren, an NCAA champion and Olympic level wrestler, narrowly defeated Jay Hieron at Bellator 56 to defend his title which he captured with a win over Lyman Good. Lima won season 5's tournament with a decision over Steve Karl before brutally KO'ing Chris Lozano and UFC veteran Ben Saunders.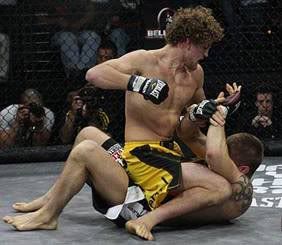 (Askren v. Ryan Thomas)
Season 6 WW Final Four:
Karl Amoussou (14-4-2)- Defeats Chris Lozano via RNC.
Ben Saunders (13-4-2)- Defeats Raul Amaya via unanimous decision.
David Rickels (9-0)- Brutally KO's Jordan Smith to advance.
Bryan Baker (17-3)- Defeats Carlos Pereira via decision.
Lightweight (155)
Michael Chandler (9-0), defeated Eddie Alvarez via fourth round rear naked choke at Bellator 58, will likely get a non-title fight during the Season 6. Chandler won the Season 4 lightweight tournament, defeating Marcin Held, Lloyd Woodard and Patricky Freire. Chandler was an All-American at Missouri before making his transition to MMA.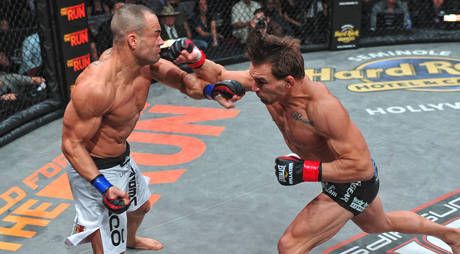 (Michael Chandler v. Eddie Alvarez pictured)
Season 6 LW Quarter-Finals Final Four:
Lloyd Woodard (11-1)- defeats Patricky Friere via kimura.
Rick Hawn (12-1)- defeats Ricardo Tirloni via KO.
Brent Weedman (18-7-1)- defeats JJ Ambrose via submission.
Thiago Michel (9-2)- defeats Rene Nazere via split decision.
Featherweight (145)
The featherweight division will see two title fights this season barring injury due to Joe Warren (7-2) attempting a run at the Season 5 bantamweight tournament. Warren, the season 2 champion, will fight Pat Curran (16-4) at Bellator 60. Curran won the summer series 145 pound championship, where he defeated Marlon Sandro, Ronnie Mann and Luis Palomino.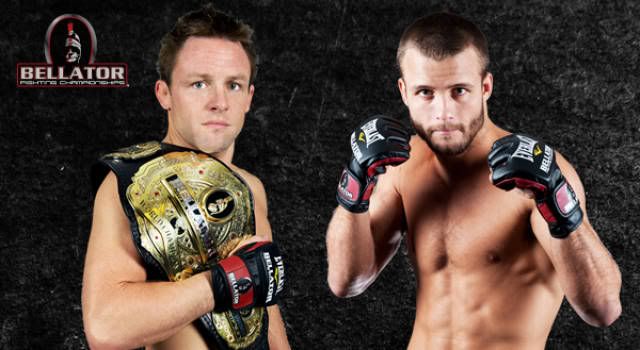 (Joe Warren v. Pat Curran Bellator promo pic)
Pat Curran (17-4) will next fight Patricio 'Pitbull' Freire (17-1), who won the season 4 featherweight championship. Friere, a BJJ blackbelt and powerful Muay Thai striker, won season 4 by defeating Georgi Karakhanyan, Wilson Reis and Daniel Straus.
The first round of the featherweight tournament saw Marlon Sandro defeat Roberto Vargas via first round rear naked choke in a dominant performance standing. Alexandre Bezerra took a cautious approach at first before catching Kenny Foster in a second round rear naked choke as time was running out.
Mike Corey imposed his will on the favorite, Ronnie Mann, scoring takedowns and ground and pound to win via unanimous decision. Daniel Strauss used a similar gameplan, utilizing a quick power double to win via unanimous decision.
The Season 6 FW Final Four match-ups have been announced:
Marlon Sandro (21-3) v Alexandre Bezerra (13-1)
Mike Corey (12-2) v. Daniel Straus (18-4)
Bantamweight (135)
Season 3 champion Zach Makovsky (14-2) will fight Season 5 champion Eduardo Dantas (13-2) for the bantamweight title. Makovsky has fought in two non-title fights since his season 3 championship, defeating Chad Robichaux via TKO and Ryan Roberts via submission. Dantas captured the season 5 title by defeating Wilson Reis, Ed West and Alexis Vila.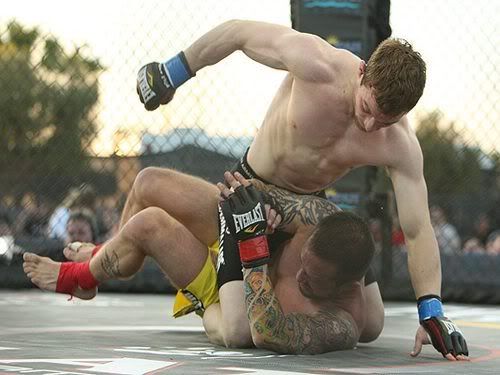 (Makovsky v. Robichaux pictured)
Quarter-Finals Participants, likely to begin at BFC 64:
Marcos Galvao (10-5-1)
Hiroshi Nakamura (14-5-4)
Masakatsu Ueda (14-1-2)
Alexis Vila (11-1)
Luis Nogueira (12-2)
Rodrigo Lima (9-0)
Ed West (17-6)
Travis Marx (18-3)