On March 9th, season 15 of The Ultimate Fighter will kick off on its new home, FX, at its new time, 9PM. The coaches, who will battle for the bantamweight title at UFC 148, are Dominick Cruz and Urijah Faber. The cast will feature 32 lightweights.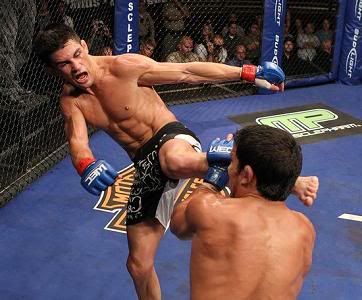 (Dominick Cruz throwing a kick)
The fights will occur over 13 weeks, with each fight shown live. How this will impact the editing of the show is up in the air, as it is unknown exactly what will fill in time if there is a sub 30 second KO. Hopefully, there isn't a Jay Glazer interview to kill time.
(Urijah Faber with the FW belt)
The debut episode will be two and a half hours of live fights. The cast does have serious talent, with 9 undefeated fighters and several interesting veterans.
Here is the cast list:
Jon Tuck (6-0)- Fighting out of Guam, an island in the Pacific, Tuck is the only fighter to defeat Eduard Folayang (11-1). Has a purple belt in BJJ, with 3 TKO's and 3 submission wins.
Jordan Rinaldi (5-0)- Fighting out of North Carolina, Rinaldi notched his biggest win in a rear naked choke submission of TUF 14 runner-up Dennis Bermudez. Has four submission wins.
James Krause (15-4)- WEC/Shark Fights/Bellator veteran has victories over TUF runner-up Michael Johnson (10-6), Sean Wilson (30-17) and Ran Weathers (15-10).
Cristiano Marcello (12-3)- The lone Brazilian in the field, Marcello is a black belt under Royler Gracie having also trained under Rickson Gracie. Marcello has 9 submissions in his career, including over TUF 8's David Kaplan.
Akbarh Arreola (19-6) - California based fighter who has fought at 170 and 155, primarily in Mexico. Coming off a loss to Ronys Torres. Biggest wins over UFC vet Gabe Ruediger and Dream/M-1 vet David Gardner.
Dakota Cochrane (11-2)- Cochrane is a veteran of the Midwest MMA circuit, having notched his biggest win against former WEC champ Jamie Varner in the Titan Fighting Championship. Has beat other veterans Rod Montoya and Marcus LeVesseur (21-5).
Daron Cruickshank (10-2)- Fighting out of the MASH team in Michigan, Cruickshank is on a 4 fight win streak, including a decision over GSP training partner Mike Ricci and Brad Cardinal.
Chris Saunders (9-2)- Fighting out of California, Saunders lost a decision to Chris Horodecki in Bellator in his last bout. Prior to that fight, Saunders notched his biggest win with a KO over Cleber Luciano.
Myles Jury (9-0)- Jury was a contestant on TUF 13, however tore his ACL during a practice. The 5'10" King of the Cage fighter has fought exclusively at 170.
Sam Sicilia (10-0)- Fighting out of Team Fancy Pants, Sicilia has 5 KO wins and 4 submissions, mainly fighting .500 fighters.
Vinc Pichel (7-0)- All of Pichel's 7 wins have been via TKO/KO, with his biggest victory over Dream veteran David Gardner.
Michael Chiesa (7-0)- Fighting out of Team Fancy Pants in Washington, Chiesa has 5 submission wins on his record. Hasn't fought the best competition, with his biggest win over Darcy James (then 4-3).
Jared Carlsten (3-0)- The 6'1" Carlsten fights out of Los Angeles, with all three triangle victories. A brown belt at 10th Planet Jiu-Jitsu, Carlsten's opponents have a combined record of 3-15.
James Vick (4-0)- Fighting out of Texas, Vick has only been a professional for 8 months. Has only fought relatively inexperienced fighters.
Justin Lawrence (3-0)- Fighting out of Missouri, "The American Kid" began his career with a decision over Max Martyniouk in Strikeforce Challengers in 2010. Notched a KO and submission to round out 2011.
Ali Maclean (9-5) - Fighting out of Belfast, Northern Ireland, Maclean has a five fight win streak. The "Insane One" has 7 submission wins and won a four man tournament in the Sprawl n Brawl: Revelation promotion. His biggest win was over TUF 9's Tommy Maguire (11-4).
Andy Ogle (8-1)- Fighting out of Tynemouth, England, Ogle currently has a seven fight win streak. Defeated Shay Walsh (then 6-0) via decision in his last bout.
Jeff Smith (9-1)- A former training partner of TUF 13 runner-up Dennis Bermudez, Smith has rattled off 9 straight wins since losing his debut.
Joe Proctor (7-1)- Fighting out of Massachusetts, Proctor is on a three fight win streak which includes victories over Matt Bessette (then 7-2) and Oz Pariser (then 4-0).
John Cofer (7-1)- Fighting out of Rory Singer's Hardcore Gym, Cofer last defeated Marius Cujba (then 7-0).
Mike Rio (8-1)- The Wolverine's only loss was to TUF 8 champion, Efrain Escudero. Has quality wins over Zach Juusola (then 8-1) and Mike Bruno (10-4).
Mark Glover (6-1)- The British fighter has a submission win over TUF 12's Aaron Wilkinson, with 5 total submissions on his record.
Jeremy Larsen (8-2)- Arizona based fighter is a veteran of the Rage in the Cage promotion. Biggest win over Victor Meza (10-3).
Chase Hackett (4-1)- The 6'1" Hackett fights out of Colorado with 3 rear naked choke wins on his resume. He won a decision over TUF 15 castmate Drew Dober.
Austin Lyons (9-1) - Fighting out of Tennessee, Lyons is on a 9 fight win streak, which includes 7 submissions. Defeated Jimmy Van Horn via arm bar at Bellator 38.
Chris Tickle (7-4) - Fighting out of Illinois, Tickle defeated longtime MMA veteran Brian Geraghty and UFC veteran Steve Berger in his last two bouts. Has a 5 fight win streak.
Drew Dober (7-3)- Dober is a Midwest fighter's biggest win is an arm triangle submission win in Bellator over Nick Nolte.
Cody Pfister (6-3)- Fighting out of Texas, Pfister has gone 5-0 in the Shark Fights promotion. In his last bout, Pfister won via TKO over Isais Martinez (then 8-3).
Al Iaquinta (5-1) - New York based fighter who has fought exclusively in the Ring of Combat organization. Lost via submission to UFC vet Pat Audinwood in last bout. 3 KO/TKO wins.
Brendan Weafer (6-3) - Fighting out of New York, NY, Weafer has 3 TKO/KO's.
Johnavan Vistante (3-1)- Hawaii based fighter has two submission wins and a TKO win on his resume.
Erin Beach (3-1)- Fighting out of San Diego, Beach notched his biggest win in Bellator over Roscoe Jackson.