With the UFC looking to make a huge splash in its first event in Brazil since 1998, Anderson Silva and Yushin Okami will square off in the main event at the HSBC Arena in Rio de Janeiro, Brazil. The event is the first since the major news of a UFC and Fox partnership.
Anderson Silva (30-4, 13-0 UFC) has unequivocally had the most unprecedented run in the UFC, winning 13 straight in the promotion, including 9 for the title. Mixing precision striking with elite Muay Thai skills, Anderson has made many top notch MMA stars look like amateurs during his run.
Anderson will look to punish Okami standing, mainly using his fists to avoid an Okami takedown. Anderson could look for the Muay Thai clinch with knees early and often, while looking to scramble if taken down. Anderson KO'd Vitor Belfort in his last bout with a front kick with follow up punches, with other UFC wins over Rich Franklin, Dan Henderson, Forrest Griffin, Nate Marquardt and Demian Maia.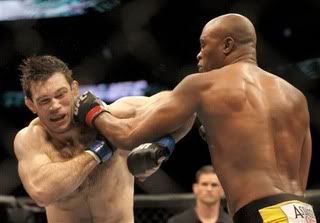 (Anderson punching Forrest Griffin)
The only chink in Silva's armor during his UFC run has been a near defeat to Chael Sonnen, who tagged Silva with punches and accomplished takedowns at will during the first four rounds of the title fight. In the fifth, Silva nailed a miraculous triangle/armbar to retain the title. Sonnen has been training with Okami in preparation for the bout.
Yushin Okami (26-5, 10-2 UFC) has experience with Anderson Silva before, fighting him in BJ Penn's Rumble on the Rock tournament. Anderson punished Okami with leg kicks, Okami's failed a couple takedowns before getting a single leg, then Okami was rocked by an illegal upkick while grounded.
(Okami punching Rory Singer)
Okami should know that his takedowns must be set-up from the clinch in order to work. Okami probably also knows that while his stand-up has improved greatly since the first match-up, it is no where near the level of Anderson's. Expect Okami to look for the clinch early and often to neutralize the range of Anderson.
Here is a look at the full card:
PPV CARD
Anderson Silva v. Yushin Okami
Forrest Griffin v. Mauricio "Shogun" Rua
Antonio Rodrigo Nogueira v. Brendan Schaub
Edson Barboza v. Ross Pearson
Luiz Cane v. Stanislav Nedkov
SPIKE TV CARD
Spencer Fisher v. Thiago Tavares
Dan Miller v. Rousimar Palhares
FACEBOOK CARD
David Mitchell v. Paulo Thiago
Raphael Assuncao v. Johnny Eduard
Erick Silva v. Luis Ramos
Felipe Arantes v. Yuri Alcantara
Yves Jabouin v. Ian Loveland