Here is an exclusive interview with mixed martial artist Chuck "The Reverend" Grigsby. Chuck has been fighting professionally since 2005 for a variety of fight promotions, including the WEC, M-1, VFC and MCC. After fighting professionally 26 times in four years, Grigsby took 2010 off while focusing on his family and coaching.
Chuck's next challenge awaits in the
World War Fighting Championships
fight promotion on April 9th. The card will be headlined by his training partner and UFC veteran Josh "The Dentist" Neer at the
7 Flags Event Center
in Clive, Iowa.
MMA Blaster: You did not have a fight in 2010, why was that?
I took off for a few reasons, but the most important to me was to spend time with my family. I wasn't around much in 2009 because I was traveling internationally fighting for M-1. The second reason I took some time off was I felt like my performances weren't at the dominanant standard I set for myself, despite winning 13 of my last 16 fights.
MMA Blaster: How does taking a year off help your fight career?
The time off was very beneficial, not only physically, but mentally as well. I am the type of fighter that likes to stay really busy once I'm in full fight mode. I don't just train for the next fight then stop and start training again, I train all year long. With that being said, as a veteran in the sport, fighting all year long does take it's toll and you do get dinged up a bit.
(Rev securing a rear naked choke)
MMA Blaster: Were you focusing on coaching during your year off? How did that help your game?
I focused on coaching with non-fighters as a kickboxing coach with a company called Kosama, you can visit at
Kosama.com
. Ironically, teaching and coaching at Kosama has been very rewarding and has motivated me more than training any other fighters.
MMA Blaster: Why have you decided to fight at 185 pounds? What mental challenges do you face in dropping a weight class?
I decided to fight at 185 because it has always been a fantasy of mine after I competed successfully at 205. The mental challenge involves staying disciplined with my diet and doing all things in moderation. It's tough because my frame isn't necessarily built to be that light. I do believe that I have the correct approach dropping weight in a healthy and safe way so I am strong and peaking cardio wise when I compete.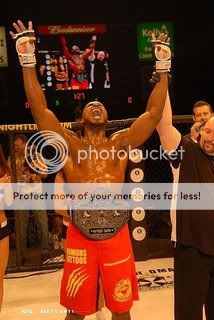 (Rev lets out a victory scream)
MMA Blaster: Are you focusing on being a student now? What sort of frame of mind does that put you into?
Yes, definitely! I am known for my stand-up skills and sometimes people who want to improve in that area seek me out for coaching. Now, I am the student in all areas. I am focused on absorbing everything from anyone who has something to offer and I think it will show in the upcoming year.
MMA Blaster: I've heard you have a fight scheduled for April 9th? What promotion will that be for?
That will be World War Fighting Championships based out of Des Moines, Iowa. This fight is honestly more of an experiment to see if all the things I am training so hard on work. Also to see if competing at 185 is something I can be successful at.
MMA Blaster: What is it like fighting in your hometown?
I'm actually from Missouri, the "Show Me State," so Des Moines is not actually my hometown, but I have been here for most of my life. I enjoy fighting in Des Moines because of the support I get from my family and friends in the crowd. It really elevates my training and performance on fight night.
(Rev going to the body)
MMA Blaster: What challenges are you looking forward to in your upcoming fight?
I'm a seasoned veteran with 26 fights, but this is a new weight class. The type of fighters I will be facing now are quicker, more technical, and possibly even more athletic. It is all new. I compare it to coming down from fighting in the Heavyweight division to Light Heavyweight. Everything seemed so much faster.
MMA Blaster: Who is helping you get ready for the fight? Who are you training with?
The usual suspects, haha, Kervin Veasly, Josh Neer, Anothony Porcelli, Pete Peterson, Cardell James, Paul Bird and all of my fight partners and teammates who come in to get better everyday in practice
MMA Blaster: What are your current goals for your fighting career? Where will you be in a year?
My goal is the same as it always has been, but in a new weight class. That is to dominate and smash out in this this weight division.
(Rev with the M-1 2nd Place Cup, 16 teams competed)

MMA Blaster: Have you thought about returning to M-1 competition? Other international fights?
I won't even think about any of that until I see what happens in this fight in April. All of the other stuff will be what it will be when that time comes. I have learned in this sport that you can only control, or know what is going to happen, one day at a time.
MMA Blaster: Any shout-outs?
Big shout-out to G-unit, and all the peeps who have faith and love for me. I wouldn't be able to do this without you. Thank you!
(Rev getting down to 185)