Jon "Bones" Jones is poised to let his star shine even brighter this Sunday night on UFC on Versus 2. The electric fighter will look to build on his KO win over Brandon Vera with a statement win over grizzled MMA veteran Vladimir Matyushenko. The fireworks will be broadcast live on Versus and take place in San Diego, California.
Jon Jones 10-1DQ) burst into the UFC was his lightening fast stand-up, superb wrestling skills and improving submission game. The 6'4" Jones debuted at UFC 87 with a decision over Andre Gusmao, then took a decision win over Stephen Bonnar, guillotine of Jake O'Brien, then faced Matt Hamill at the Ultimate Fighter 10 Finale and was DQ'd due to illegal elbows. Look for Jones to use his quickness to pick apart Vladdy standing.
(Jon Jones' suplex over Stephan Bonnar)
Vladimir Matyushenko (24-4) has over 13 years of MMA training and fights under his belts, defeating the likes of Yuki Kondo, Pedro Rizzo and Travis Wiuff in his first run in the UFC,leaving in 2003. The international freestyle wrester went on the win the IFL 205 pound grand prix and title defeating the likes of Jamal Patterson, Tim Boetsch and Alex Schoenauer. Since returning to the UFC, he has defeated Igor Pokrajac and Eliot Marshall. Look for Vladdy to go for takedowns to acquire top position.
(Vladimir on the Tokyo Dragons in the IFL)
Mark Munoz vs. Yushin Okami- This is a battle of two excellent grapplers in the 185 division. Munoz will look to impose his will in this fight and get to the floor quickly. Okami will likely try to work strikes and knees while in the clinch.
After taking the NCAA division 1 crown at Oklahoma State University, Mark Munoz (8-1)has gone from assistant wrestling coach to rising prospect. Mark has an improving stand-up game with excellent wrestling. Munoz won two fights in the WEC before getting KO'd by Matt Hamill at UFC 96. He has since ran off 3 straight wins over Nick Catone, Ryan Jensen and Kendall Grove.
(Mark Munoz pictured)
Yushin Okami (24-5) first came on the scene winning an amateur MMA tournament that took place before Pride 4. He has used his grappling skills to grind out wins with top position. Okami has defeated Mike Swick, Jason MacDonald, Dean Lister and Evan Tanner in the UFC.
(Yushin Okami punching Rory Singer)
Takanori Gomi vs. Tyson Griffin- Former Pride champ Takanori Gomi desparetly needs a win in this fight against the energizer bunny known as Tyson Griffin. Gomi was unsuccessful in his UFC debut against Kenny Florian, getting out-grappled and out-struck, losing in the third round via rear naked choke. Griffin meanwhile also looks to rebound from a close decision loss against uber prospect Evan Dunham.
Look for Gomi (31-6) to keep the fight in mid-range and work inside Griffin's solid leg kicks. Gomi was a dominant force in the lightweight division of Pride during his prime, defeating the likes of Mitsuhiro Ishida, Tatsuya Kawajiri, Hayato Sakurai with solid boxing and wrestling skills.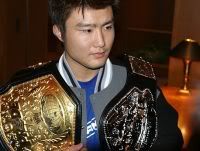 (Takanori Gomi pictured)
Tyson Griffin (14-3) may work leg kicks from the outside, or try to bully Gomi with his solid wrestling skill. Griffin is a fire-plug, who seems to easily go through 15 minutes of action pushing the pace. He has defeated Marcus Aurelio, Thiago Tavares and Hermes Franca in the UFC.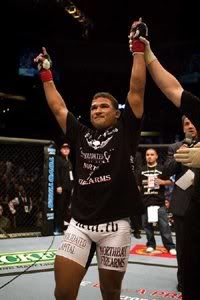 (Tyson Griffin pictured)
Jake Ellenberger vs. John Howard- John Howard (14-4) is at his best when he can push around his opponent and overwelm him. That may be hard as Jake Ellenberger (22-5) is a top level wrestler who brutalized Mike Pyle in his last UFC fight winning via TKO. Expect each fighter to be looking the fight quick, but Ellenberger holding the advantage in the wrestling department.
PRELIMINARY CARD
Paul Kelly vs. Jacob Volkmann
DaMarques Johnson vs. Matthew Riddle
James Irvin vs. Igor Pokrajac
Mike Massenzio vs. Brian Stann
Darren Elkins vs. Charles Oliveira
Rob Kimmons vs. Steve Steinbeiss