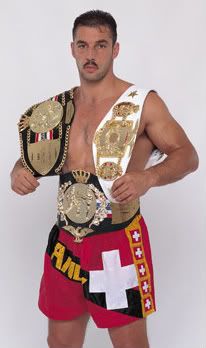 Andreas "Andy" Hug was a superstar Swiss karate fighter who lived from September 7, 1964 - August 24, 2000. Andy was the first karate fighter to win the K-1 Grand Prix, which he did in 1996. K-1 is hands down the best kickboxing organization in the world. He was runner up in 1996 and 1997.
Hug was revered by the Japanese public, who admired his courage as he usually was the smaller fighter in the ring against much larger kickboxers. He was nicknamed "Blue Eyed Samarai" by the Japanese. Outside of K-1, Hug fought in numerous full contact karate matches, winning various titles around Europe and Asia.
His trademark axe kick was perfected to epic proportions as you will see in the highlight reels below. Andy also possessed a brutal spinning back fist, and nasty spinning high kicks and low kicks. In his last big K-1 match on June 3, 2000, he defeated Mirko "Cro Cop" Filopovic at K-1 Fight Night in his native land of Switzerland. Sadly, Hug died of leukemia a short time later. He was rewarded an honorary samurai title by K-1 founder Kazuyoshi Ishii and was considered to be the bravest K-1 fighter of all by the Japanese public.
Hug notched K-1 wins over all the top K-1 stars in Jerome LeBanner, Musashi, Mike Bernardo and Masaake Satake; K-1 Champs Ernesto Hoost, Peter Aerts, Branco Cikatic, Ray Sefo; and UFC Champ Maurice Smith. He even KO'd Duke Roufus of Roufusport.