I have gotten a couple questions emailed to me lately inquiring about my thoughts on Roy "Big Country" Nelson's fighting skills, coaching job on TUF 16, his rankings among UFC heavyweights and a potential drop down in weight. Here are my thoughts:
Roy Nelson is an elite martial artist and gifted athlete. That has been evidenced several times, including KO's over Brendan Schaub, Stefan Struve, Cro Cop, Dave Herman and now Matt Mitrione. He has a legit BJJ black belt and has defeated Frank Mir in a grappling match. He can impose his will in fights, possesses an iron chin, and has excellent punching power combined with hand eye coordination.
I don't think Roy will ever drop to 205 pounds and have the prototypical UFC body. At 250 plus, I just don't see Roy wanting to lose that weight. Most fighters at 205 are faster than Nelson. There are some grapplers at 205 that could take Nelson down every round and stay away from his power.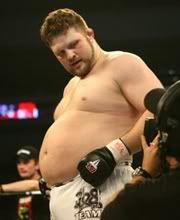 Roy is at his best striking when he is able to counter and avoid power punches from big guys with reach on him. Long strikers should be peppering Roy with the jab and hitting him with kicks at distance. As far as his ranking, I'd guess Roy has a few more years left around number 10 with wins still left in the tank.
As evidenced by his championship TUF 10 run, Roy doesn't really like people telling him what to do. He knows what works for him and wants to do that. As a coach on TUF 16, it seemed like the fighters on Team Nelson wanted more instruction and harder practices. Roy deflected that sentiment by saying he couldn't teach heart, but really Roy probably just thought that's how his fighters should be trained to win the tournament.
Roy wasn't the best TUF coach, but look at the results. His fighters won 8 out of the 15 fights in the TUF tournament. His fighter Colton Smith emerged the champion of the show fighting the same way throughout the tourney. Smith imposed his will, got takedowns, threw elbows and attempted submissions. It wasn't the most pretty tournament run, but it was effective.
In the very first episode of TUF 16, Roy did say that the show is a marathon, not a sprint, and fighters should do anything they could to win. The goal is to win 3 fights in 6 weeks in the house to make the finale. The two worst things a TUF coach can do is burn his fighters out and pushing them too hard right before a fight or having a fighter get hurt during a practice. Neither happened under Roy's watch.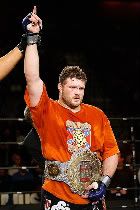 (Nelson was the first and only IFL HW Champ)