I recently caught up with pro MMA fighter Shah "Showstoppa" Bobonis, who just captured his sixth straight victory. Since we last spoke, he defended his title against Rodolfo Rubio in Combate Extremo and defeated Aaron "Yoda" Williams in Atlast Fights 12 on July 14th.
Bobonis' next fight will likely take place later this year in the XFC promotion which is broadcast on AXS TV, formerly HDNet. Below, check out a highlight video from his recent bout where he won fighter of the night honors.
MMA Blaster: How did your Combate Extremo title fight against Rodolfo "Fito" Rubio play out in March?
Bobonis: The Rubio fight was a really tough 5 round title fight. Definitely one of the most grueling fights I have ever been through.
MMA Blaster: What areas of Rubio's game turned out better than what you anticipated?
Bobonis: Rubio's grappling off his back was better than I thought it was going to be. He was very good at staying safe off his back. That plus the fact there was no quit in him made it a really tough fight.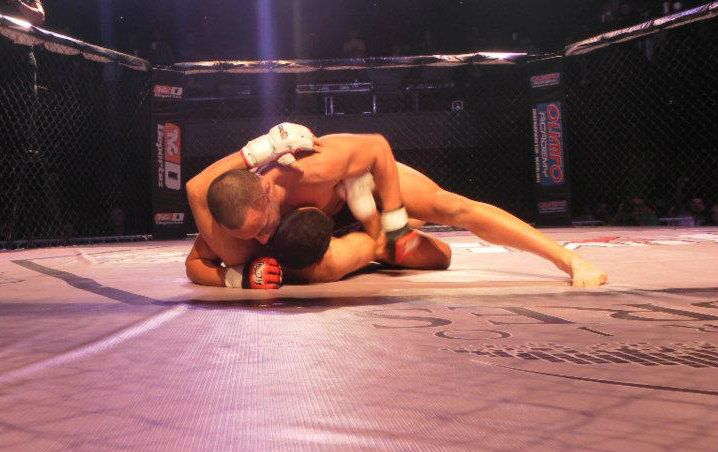 (Grappling with Rubio)
MMA Blaster: Your last bout was against Aaron "Yoda" Williams in Atlast Fights 12, how did that fight go? What was your key to victory?
Bobonis: The Williams fight went really well! I had a great weight cut and a excellent camp. I felt great during the fight and landed the majority of the big shots. I had a vicious knock down of Williams at they end of the second round and got five takedowns during the fight.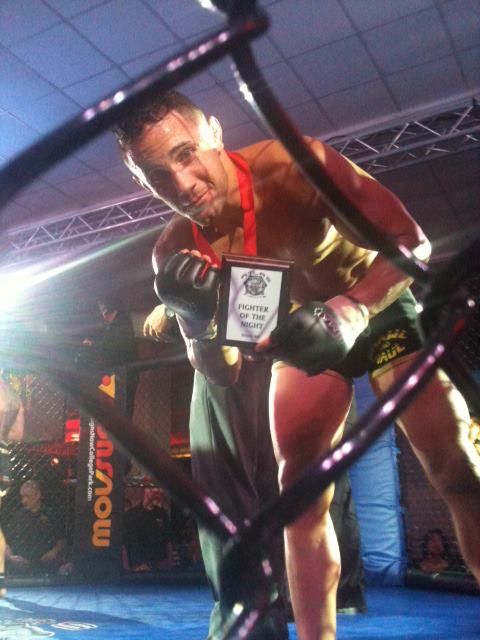 (Fighter of the Night Honors)
MMA Blaster: Who did you train with for that fight?
Bobonis: Camp started in Miami with FFA. Next, I was in Savannah, Georgia at
Champions Training Center
training with Muhsin Corbbrey, a WEC and Elite XC veteran. Finally I spent three weeks at
Lloyd Irvin's MMA
getting Mike Easton ready for his UFC fight with Ivan Menjivar.
MMA Blaster: Was the Williams fight at 140 pounds or 145? What weight will you be fighting at next?
Bobonis: The fight was at 140. Unless there is a belt on the line, I'd rather just fight at 140. I cut weight for less than a hour before weigh-in's. If someone insisted I make 135 pounds I would do it. Why be miserable if I dont have to be?
MMA Blaster: You have 6 wins in a row right now, what is next for you? What can you do to get noticed by the UFC?
Bobonis: I really don't know what's next. I'm in talks with a promotion thats on national TV, is paying well, and can keep me busy. Hopefully that works out. I'm not 20 years old, so I can't just wait around for the UFC to call.
MMA Blaster: What did you think about the Urijah Faber v. Renan Barao fight?
Bobonis: Faber's striking looked off that night. He was off balance when he would try and close the distance and never landed more than one punch at a time. His transition game was nonexistant! He never set up any wresting with his striking, which used to be his strength. It was a very bad performance by Faber. Faber's performance made Barao look even better than he really is. Not to say he isn't a great fighter, but Faber made him look like Jose Aldo.
MMA Blaster: Do you have any thank you's or shout-outs?
Bobonis: I want to thank FFA, Champions Training Center, Lloyd Irvin's MMA,
Brawl and Maul
,
Trim Nutrition
,
MMA Solutions
, all my training partners and my parents.
*See the knockdown just past the 40 second mark
(Atlast Fight Promo Picture)