Pro MMA fighter Shah Bobonis will look to build on his four fight win streak on March 24, 2012, when he fights Rodolfo Rubio in the Combate Extremo promotion. The title fight will take place in Monterrey, Mexico.
Bobonis has been a friend of mine since I did a story on him in preparation for a bout back in 2008. I was recently able to catch up with Shah and ask a few questions about his upcoming bout.
MMA Blaster: You haven't fought since your Bellator knockout victory over Marcos da Matta in September, how has training been going?
Bobonis: Yeah, I havent fought since September of last year. I was supposed to fight on the XFC in December of last year, but my opponent was injured nine days before the fight. My training for the March 24th Combate Extremo title defense has been going great.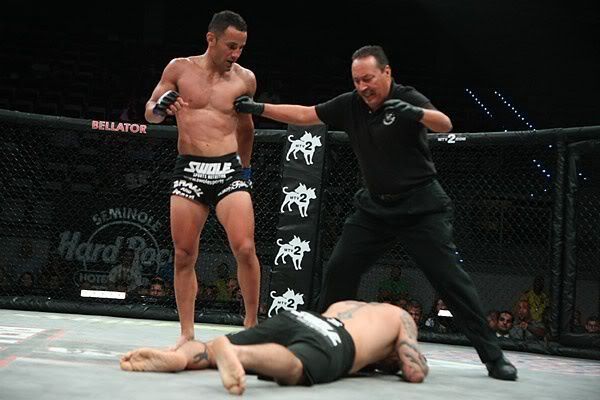 MMA Blaster: What members of the FFA team have you been helping out?
Bobonis: We have a great group of small guys at
FFA
. The list includes Tulio Quintanilla who is also a Bellator veteran; Jason Soares, the FILA 2011 no-gi world champion at 65 kilos; Edwin Sarriar, the 125lbs WFO amateur champion; Edir Terry, a Karate black belt and great kickboxer; and my coaches are some of the best MMA minds in the game.
MMA Blaster: How frustrating is it to have scheduled fights fall through? Is it just part of the MMA game?
Bobonis: As far as fights falling through, I'm used to it. I don't make the same mistakes that I have made before. In the past, I would usually just take a short notice fight at a higher weight class. That accounts for half of my six losses. I'd say once a fight is signed you only have about a seventy percent chance of actually fighting the person originally scheduled, if you get to fight at all.
MMA Blaster: Judging by a video of your next opponent, he looks to have some grappling skill. How do you like to attack grappling oriented fighters?
Bobonis: I agree, Rubio does have decent BJJ. From looking at the tape, I think that is his strength. I plan on taking what he gives me. If he intends on grappling, I have no qualms pounding him out. There is no way I end up on my back in this fight. When punches and elbows are raining down, it's really hard to pull off a submission against a top level guy.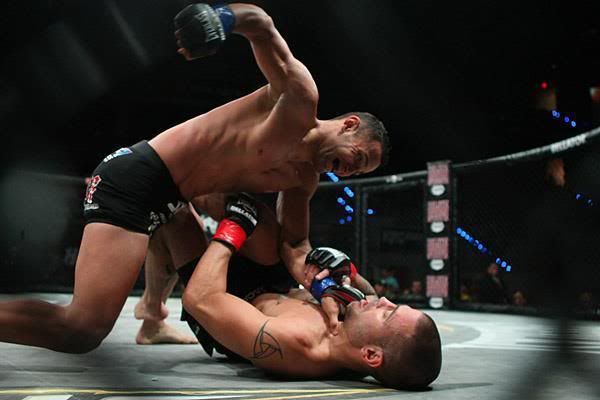 MMA Blaster: What do you like most about fighting in Mexico?
Bobonis: I really like Mexico, and fighting there presents a different challenge. When I fight in the United States there are many high level grapplers who have a huge hole in their striking game. Usually in Mexico it's the reverse, on average I feel the top guys in Mexico have much better striking then most fighters in the US.
MMA Blaster: Would you like to get another fight in Bellator? Would you be willing to fill in and fight as an alternate in the season 6 tournaments? How do you think you would stack up to the fighters in last seasons Ultimate Fighter?
Bobonis: I'm ready to fight ANYONE in the world at 135 pounds. The best shows in the United States are Bellator and the UFC. Looking at the last season of the Ultimate Fighter reality show, I feel like most of the guys at bantamweight wouldn't last two rounds with me. There are plenty of guys in the Bellator bantamweight tournament that I would love to fight. I have a good relationship with the south Florida matchmaking consultant for Bellator, so I hope to be on a Bellator card later this year.
MMA Blaster: Many fighters are embracing twitter, what are your thoughts on it? What is your twitter handle?
Bobonis: Twitter is great, I personally love it along with any other form of social media. For some guys I see how it could be a loaded gun with no safety. I have an MMA blog that comes out weekly on a few websites and I always post links to it on my Facebook and Twitter. I wish I was more tech savvy so I could do more. My Twitter handle is @shahbobonis.
MMA Blaster: What were your thoughts on the Diaz versus Condit fight? Who do you think won?
Bobonis: I think Condit clearly won by landing all the clean shots standing. Aggression is great, but it has to be effective aggression. Diaz wasn't effective at all, he was countered all night. Another thing I'd like to touch on, how is Diaz so angry all the time? Most the people I know who smoke weed are pleasant and laid back. The Diaz brothers are the angriest pot heads I've ever seen.
MMA Blaster: Do you have any thank you's or shout-outs?
Bobonis: I want to thank FFA,
Brawl and Maul
,
Trim Nutrition
,
MMA Solutions
, MMA Athlete, all my training partners at FFA and my parents.