UFC 130 took a big hit as both Gray Maynard and Frankie Edgar pulled out of their proposed lightweight title fight with injuries. Each is looking at 6-8 weeks to heal, as Maynard is dealing with knee injury and a cut that required stiches, while Edgar nurses a rib injury.
Filling the void will be a 205 pound match between Rampage Jackson and Matt Hamill. Rampage is coming off a razor thin decision win over Lyoto Machida. While Rampage (31-8) won the first two rounds on most scorecards, Machida rallied in the third nearly pulling off the win.
(Rampage KO's Chuck Liddell and takes the LHW belt)
It has been almost two years since Rampage has looked like his old powerful, explosive self. Rampage mainly looks to counter-punch standing, rarely looking for the textbook power takedowns and slams he was once known for. Rampage will be defending Hamill takedowns en mass throughout this bout, counterstriking and looking for an opening to land a texbook power KO punch.
While Matt Hamill (10-2) technically is riding a five fight win streak, he was destroyed by Jon Jones at the TUF 10 Finale a year and a half ago. Always the power wrestler, Hamill has looked good in his past two outings, defeating Keith Jardine and Tito Ortiz.
(Hamill KO's Mark Munoz with a head kick)
Hamill will look to set-up his takedowns, boxing his way in. Hamill may want to take a page out of the Forrest Griffin handbook, utilizing leg kicks to take the steam out of Rampage.
In the co-main event, former UFC champ Frank Mir will be locking horns with TUF 10 champ Roy "Big Country" Nelson. The winner could be next in line for a title shot, following the Carwin v. Dos Santos fight.
Frank Mir (14-5) has looked to strike early and often in his recent UFC bouts, going 5-2 in his last 7 fights. With a likely reach advantage, expect Mir to utilize a mix of kicks and punches from distance against Nelson. Mir has career victories over Cro Cop, Tim Sylvia and Big Nog.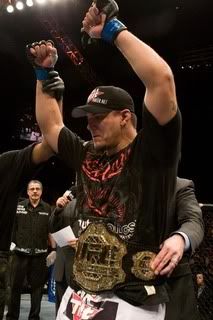 (Mir wins the UFC belt)
Roy Nelson (15-5) first made a name for himself as the big bellied champion of the International Fight League. With solid hands and a BJJ blackbelt, Nelson is a wily veteran who poses problems to any heavyweight. Expect Nelson to look to get inside on Mir, throw heavy hands, and try a couple takedowns. Nelson's big victories have come over Brendan Schaub, Stefan Struve and Brad Imes.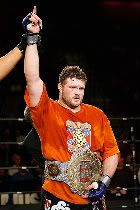 (Roy Nelson wins the IFL belt)
In what is almost guaranteed to be a heavy handed slugfest, the 6'11" Stefan "Skyscraper" Struve (21-4) will fight the massive 6'7" Travis "Hapa" Browne (10-0-1). Expect plenty of fireworks as both these guys like to throw punches.
The 23 year old Struve always seems to be improving his game, with two straight wins over Sean McCorkle and Christian Morecraft in his last two UFC bouts. The Dutchman has been working to put on extra weight for this fight, and has solid submission and kickboxing skills.
(Stefan Struve TKO of Morecraft)
The Hawaiian Travis Browne is coming off a solid performance in which he fought to a draw against Cheick Kongo. A striker who loves to swing big, Browne has KO wins over James McSweeney, Aaron Brink and Abe Wagner.
(Travis Browne TKO over McSweeney)
In other action, former Sengoku champion Jorge Santiago (23-8) will make his return to the UFC after posting solid wins over Jeremy Horn, Trevor Prangley, Kazuo Misaki and Mamed Khalidov. Former WEC champ Brian Stann (10-3) will look to build off the momentum of a Chris Leben TKO in this fight.
Dominant striker Thiago Alves (18-7) will meet Ricky Story (12-3) in what is sure to be an entertaining 170 pound contest. Story has used stifling grappling and accurate striking during his 5 fight UFC win streak which includes his latest win over Johny Hendricks.
PPV CARD
Matt Hamill v. Quinton "Rampage" Jackson
Frank Mir v. Roy Nelson
Travis Browne v. Stefan Struve
Jorge Santiago v. Brian Stann
Thiago Alves v. Rick Story
SPIKE TV CARD
Demetrious Johnson v. Miguel Torres
Tim Boetsch v. Kendall Grove
FACEBOOK CARD
Rafaello Oliveira v. Gleison Tibau
Chris Cariaso v. Michael McDonald
Renan Barao v. Cole Escovedo