Showtime will have Strikeforce: Miami live on this Saturday, January 31, 2010. The fights take place at the Bank Atlantic Center in Sunrise, Florida.
Nick Diaz vs. Marius Zaromskis
- This fight is for the Strikeforce 170 pound title. The brawl places the Stockton California bad boy Nick Diaz (20-7) against Dream 170 pound champ Marius Zaromskis (13-3). Expect Diaz to engage Zaromskis strength, engaging the Zaromskis standing, even though his best strategy would be getting the fight to the ground.
Nick Diaz has been on a roll since he abandonded Elite XC's 160 pound division. The fighter has always been better at 170 and above with his unorthodox stand-up. Diaz has defeated Scott Smith, Robbie Lawler, Frank Shamrock and Josh Neer in his career. The BJJ black belt will have a distinct grappling advantage over Zaromskis.
(Nick Diaz gogoplata win over Takanori Gomi)
Marius Zaromskis has been on a tremendous roll as of late KO'ing his last three opponents via head kick. To take the Dream WW Grand Prix title, he defeated Seichi Ikemoto before using the head kick to take out Mach Sakarai and Jason High in the same night.
(Marius Zaromskis pictured)
Cristiane "Cyborg" Santos vs. Marloes Coenen-
This fight will be for the women's 145 pound championship. Cyborg Santos is a beast with her punching and kicking power. Coenen is a decent striker in her own right, but her main advantage is her submission skills.
After losing her first bout, the Brazilian Cyborg (8-1) has won 8 straight, including 6 TKO's and 2 decisions. To win the 145 pound belt, she destroyed America's MMA sweetheart Gina Carano in brutal fashion. Cyborg also has victories over Shayna Baszler, Hitomi Akano and Vanessa Porto. Cyborg has been nearly impossible to take down during that stretch.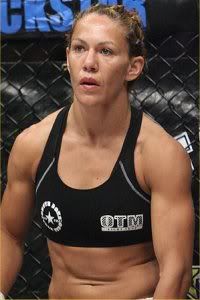 (Cyborg Santos pictured)
Marloes Coenen (17-3) is Holland's premier female fighter with 10 years experience, winning 12 of her fights via submission. In her last fight, Coenen flashed her stand-up skills knocking down Roxanne Modafferi before latching on the fight ending arm-bar. Coenen has wins over Yoko Takahashi, Yuuki Kondo and Megumi Yabushita while fighting primarily in Japan.
(Marloes Coenen pictured)
Robbie Lawler vs. Melvin Manhoef-
This fight should be an slugfest with two of the better brawlers in MMA. Melvin Manhoef (24-6) is an awesome K-1 kickboxer, knocking out Kazou Misaki in his last bout in K-1: Dynamite. Manhoef also has KO's over Mark Hunt, Kazushi Sakuraba, and Fabio Silva.
(Melvin Manhoef pictured)
Robbie Lawler (16-5) is a solid brawler in his own right with KO's over Scott Smith, Joey Villasenor, Frank Trigg and Ninja Rua. The bane of each fighter has been the ground game. Lawler may resort to attempting takedowns to get the fight to the ground.
(Robbie Lawler pictured)
Bobby Lashley vs. Wes Sims
- This fight pits rising wrestler Bobby Lashley (5-0) against super tall UFC veteran Wes Sims. Lashley will probably get a quick takedown before administering punishment on the TUF 10 conestent. Wes Sims did not look good at weigh-ins taking the fight on 10 days notice.
Greg Nagy vs. Herschel Walker-
This fight pits 47 year old 6th degree Tae Kwon Do blackbelt and former football superstar Hershel Walker (0-0) against the relative unknown Greg Nagy (1-1). Herschel looked absolutley jacked at weigh-ins.
EA SPORTS ONLINE FIGHT
Jay Hieron vs. Joe Riggs
UNDERCARD
Pablo Alfonso vs. Marcos da Matta
Michael Byrnes vs. David Zitnik
Sabah Homasi vs. John Kelly
David Gomez vs. Craig Oxley
Hayder Hassan vs. Ryan Keenan