The TUF 10 Finale produced some dramatic KO's and submission victories, a weird ending and an unlikely decision victory. The biggest winner was TUF 10 heavyweight champion Roy Nelson. The 263 pound former IFL Champion was matched up against former football star Brendan Schaub, who played at Colorado in college, Utah Blaze of the arena league and briefly for the Buffalo Bills.
Big Country came out to Weird Al's "I'm Fat" which is a parody of "I'm Bad" by Michael Jackson and let his belly do the talking in the ring. Brendan was the early aggressor, tagging Roy and forcing him to cover up and defend numerous punches. From there, Roy was able to get a takedown and nearly got the fight into his infamous crucifix position.
Brendan was able to scramble and get back to his feet. During the next exchange, Roy threw a massive overhand right that found its mark to Brendan's temple. Brendan crumpled to the canvas and Roy threw a couple follow-ups to seal the first round victory and TUF 10 crown.
In other action, Jon Jones looked athletic, fast and dominating in his performance against Matt Hamill. The extremely long limbed Jones threw front kicks, spinning kicks, and spinning back elbows from southpaw and traditional stances. Midway through the first, Jones nailed Hamill with a massive slam, possibly dislocating Hamill's shoulder.
With full mount, Jones threw wicked ground and pound with amazing quickness. Hamill managed to block many of the strikes with some sneaking threw before Jones threw a 12-6 straight up and down elbow that is illegal. The strike KO'd Hamill, and ref Steve Mazzagatti gave Hamill a DQ win.
Two former college wresting stand-outs Frank Edgar and Matt Veach put on an excellent show. Veach was able to land crowd pleasing slams and use his power. Unfortunately for Veach, eventually Edgar found his mark with right hand sending Veach to the canvas. From there, Edgar working a rear naked choke.
Kimbo Slice made a successful debut in one of the upsets on the card. Most hardcore fans such as myself thought that Houston Alexander and his nasty muay thai put him at a clear advantage. Alexander was circling and shuffling throughout the fight. There were moments of big action and exchanges, with Kimbo mostly finding his mark.
In the second round, Kimbo managed to get a decent slam takedown with good ground and pound. Kimbo continued his dominance in the round working his counter punches. Houston Alexander's best round was the third, where he was able to land some big kicks to Kimbo's legs, at one point knocking the former street brawler down. In the end, it was a unanimous decision for Kimbo.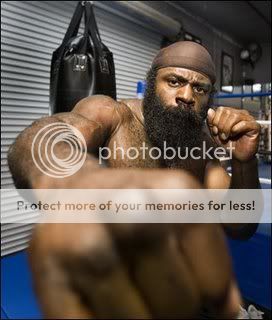 In other action former NFL players and TUF 10 castmates Matt Mitrione and Marcus Jones did battle in their official UFC debut. Marcus Jones was able to land a big takedown early and batter Mitrione with ground and pound strikes. However, in the second round Mitrione landed a big right hand to floor Jones, whose striking game still needs work.
FULL RESULTS:
Roy Nelson def Brendan Schaub via KO (punch) R1, 3:45
Matt Hamill def Jon Jones via DQ (illegal elbow) R1, 4:14
Kimbo Slice def Houston Alexander via unanimous dec
Frankie Edgar def Matt Veach via sub (RNC) R2, 2:22
Matt Mitrione def Marcus Jones via KO (punches) R2, 0:10
James McSweeney def Darrill Schoonover via TKO (strikes) R3, 3:20
Jon Madsen def Justin Wren via split dec
Brian Stann def Rodney Wallace via unanimous dec
John Howard def Dennis Hallman via KO (punches) R3, 4:55
Mark Bocek def Joe Brammer via sub (RNC) R1, 3:36
*Dana White announced the coaches for TUF 11, Chuck Liddell and Tito Ortiz.