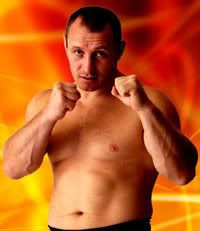 Igor "Ice Cold" Vovchanchyn (47-9) is one of the most devastating strikers in hand to hand combat history. His record more likely has another 20 or so NHB, no holds barred, and MMA fights in bouts that weren't sanctioned or reported. Prior to and during his MMA career, Igor also kickboxed in Russia, becoming Russia's kickboxing champion. Most databases have Igor's kickboxing record listed at (58-2).
The 5'8" spark plug threw heavy leather and never backed down from heavyweights who often towered over him. Sherdog has him listed as having the most KO victories in 95' and 96' during a time when many fights had few rules, long time limits, no gloves and meager paydays.
Igor debuted in mma in 1995, winning 4 fights in one day at the IAFC 1, in Moscow, Russia. It is unclear if he won that event, as another heavyweight had 4 wins on the 28 bout fight card. Igor won other tournaments including MSG 96', DNRF, IFC 1, IAFC 3, and World Vale Tudo Championship 5.
In WVTC 5, Igor KO'd all three opponents, and in the finale, KO'd Nick Nutter with a knee in 14 seconds, Nutter's last fight of his career. At this point, Igor was (23-1-1) and began his epic Pride Fighting career, becoming known for his knockout power.
Igor started off with a bang in Pride, knocking out Gary Goodridge with some nasty punches. Goodridge was a crowd favorite in that fight, making the victory at Pride 4 even sweeter. Igor spent the rest of his mma career fighting primarily in Japan, notably winning over Mark Kerr, Kazushi Sakuraba, Yuki Kondo, Gilbert Yvel, Valentijn Overeem, Enson Inoue, and Dan Bobish. He holds one of the nastiest KO wins in mma history over Francisco Bueno at Pride 8.
more early clips^