Kazushi Sakuraba - By the MMA Blaster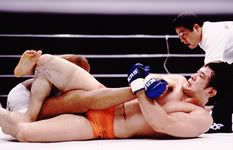 The extremely entertaining Kazushi Sakuraba (26-16) appears to have retired for good, after dropping his last four bouts which were well after his prime. Sakuraba was the face of Pride during its early days eventually handing off the reigns to Fedor and Wanderlei Silva.
Sakuraba's skills inside the ring were legendary, improvising kicks, punches, submissions, and passes that had never been seen before. Watching Sakuraba put his body on the line time and time again was something of beauty. Weighing 183 pounds, and sometimes less, he usually faced opponents with a considerable size, reach and strength advantage.
Sakuraba started as an amateur wrestler, wrestling in college and eventually placing fourth in the Japan championship. After graduating, Sakuraba started his career in professional wrestling and began to get schooled in catch wrestling.
Sakuraba was placed in the UFC Japan tournament only after another Japanese pro wrestler was injured. In his first bout with Marcus Silveira (6-4) John McCarthy incorrectly stopped the bout and reversed his call. The match was repeated for the championship and Sakuraba won via arm bar to be one of the last UFC tournament champs.
Sakuraba entered Pride and posted an armbar victory over Vernon White in his first fight. His second Pride fight was one of the best grappling displays ever in an MMA match against Carlos Newton (UFC WW champ) which Sakuraba eventually won via kneebar.
After a draw with Allen Goes , Sakuraba dominated Vitor Belfort (UFC LHW champ) with leg kick after leg kick and crazy guard passes for an innovative decision victory. He beat Royce Gracie (3X UFC Tournament Champ) in an unlimited time match in the 6th round. That fight single handedly erased much of the Royce Gracie hype and may have been the best he ever looked.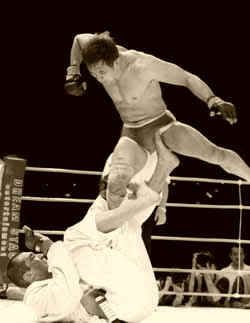 Sakuraba holds other notable victories over Ebenezer Fontes Braga , Anthony Macias, Royler Gracie , Guy Mezger (UFC 13 LW Champ), Renzo Gracie , Ryan Gracie , Quentin Jackson (UFC LHW Champ), Kevin Randleman (UFC HW Champ), Ken Shamrock (UFC Superfight Champ), Ikuhisa Minowa, and Masakatsu Funaki (2X King of Pancrase). Sakuraba's last wins were over Zelg Galesic and former boxer Rubin Williams.